Award-Winning Documentary, 'Cancer: The Integrative Perspective' Offers Holistic and Integrative Wellness Approaches for Fighting and Preventing Cancer
Press Release
•
updated: Jun 25, 2021
"Cancer: The Integrative Perspective" is #1 on Amazon Special Interests New Releases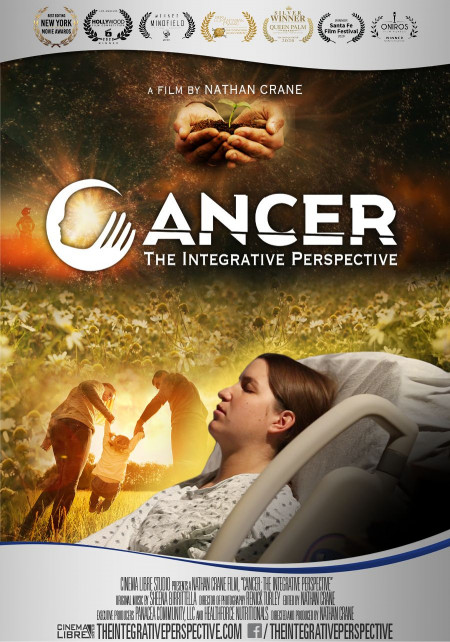 LOS ANGELES, June 25, 2021 (Newswire.com) - According to the Journal of Oncology, between "2010 to 2030, the total projected cancer incidence will increase by approximately 45%." Integrative cancer experts such as Dr. Veronique Desaulniers believe that number is even higher in the next twenty years, at 57%. Desaulniers and other experts are featured in the new documentary 'Cancer: The Integrative Perspective,' directed by health researcher Nathan Crane and released by Cinema Libre Studio on June 22, 2021 on DVD/VOD with additional platforms to follow.
This groundbreaking film takes a deep dive into the fast-expanding paradigm of holistic and integrative wellness approaches for preventing and reversing cancer, that treats the disease with conventional tools, while also supporting patients' strength, stamina and quality of life with evidence-based natural therapies.
These trends of cancer incidence and death rates again are a reminder of Dr. John Bailer's May 1985 judgment of the U.S. national cancer program as a 'qualified failure.' With "traditional" methods for treating cancer proving to be ineffective, people have now turned towards integrative methods for cancer prevention as an alternative way to beat cancer. The Centers for Disease Control reports that about 80% of chronic degenerative conditions, including cancer, result from stress, emotional issues, and traumas.
Nathan Crane, an award-winning advocate for natural healing and cancer prevention, brings together world-renowned medical experts and cancer survivors to share evidence-based insights into the power that the mind, body and spirit play in cancer care and prevention. The latest research is presented by Dr. Francisco Contreras, Dr. Leigh Erin Connealy, Dr. Francisco Calvo, Dr. Sunil Pai, and Dr. Thomas Lodi.
Health experts, researchers, master teachers and scientists share innovative new evidence about the extraordinary power of the mind, ancient Eastern traditions, and the incredible capacity of the human immune system. The film features cutting-edge insights from pioneers such as Gregg Braden, Bruce Lipton, Dr. Sherrill Sellman, Chris Wark, Mike Adams, Master Mingtong Gu and Ty Bollinger. Inspiring stories from cancer survivors Adrea Brier, Elaine Gibson, Dr. Veronique DeSaulniers, and Jackie Mendez bring real hope for a revolutionary integrative approach to fighting the worldwide cancer epidemic.
'Cancer: The Integrative Perspective' is produced by Healthforce Nutritionals and Panacea Community, and directed by Nathan Crane, an award-winning author, inspirational speaker, health researcher, documentary filmmaker and Director of the Health and Healing Club and Producer of the Conquering Cancer Summit. The film has won 20 awards, including the prestigious Best Director award at the Rocky Mountain International Film Festival.
Cinema Libre has recently released critically acclaimed wellness documentaries including: breast health ("bOObs: The War On Women's Breasts" directed by Megan S. Smith); traumatic brain injury ("Quiet Explosions: Healing the Brain" directed by Jerri Sher); and adolescent suicide ("Tell My Story" directed by David Freid.)
Facebook | @THEINTEGRATIVEPERSPECTIVE
Website: HTTPS://THEINTEGRATIVEPERSPECTIVE.COM/
For more information, contact:
Jamie Robertson
jcrpublicrelations@gmail.com
Source: Cinema Libre Studio
Related Media