Documentary Film Reveals How the United Postal Service Has Been Systematically Dismantled for Decades
Press Release
•
updated: Oct 29, 2020
Neither snow nor rain nor heat nor gloom of night stays these couriers from the swift completion of their appointed rounds...until 'THE GREAT POSTAL HEIST"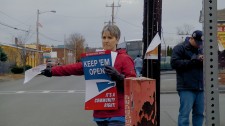 BURBANK, Calif., October 29, 2020 (Newswire.com) - ​Established by the U.S. Constitution, the once-venerated agency has been thrust into a political maelstrom that is hampering its effectiveness in the days leading up to the election. Jay Galione, the son of a postal worker, has made the first documentary film that reveals how Congressional manipulation and privatization efforts have created a toxic and chaotic workplace.
'The Great Postal Heist' is the directorial debut of Galione, who tells the story of his father, a 30-year postal clerk who was harassed, threatened, and fired for standing up for fellow employees. The documentary reveals how the USPS has been systematically dismantled and privatized by the trillion-dollar mail industry and its politicians who seek to raise prices and lower wages. A moving indictment of the toxic culture and push to downsize, the eye-opening documentary allows viewers to hear from experts and advocates including Ralph Nader and Richard Wolff, and directly from the selfless and courageous people hidden behind the scenes, long-suffering and ignored.​
"As recently as July, postal workers were prevented from working overtime and making late and any extra trips, even though the people depend on them for deliveries of medicines and mail-in ballots," says Galione. "Although the active dismantling of equipment and assets, which accelerated under Postmaster General Louis Dejoy's leadership, has been temporarily halted, he has made it clear that the controlled demolition will resume after November."
Produced by Sheila Dvorak with Galione of Post Truth media, the film was acquired Cinema Libre Studio and will premiere on Sunday, Nov. 1 starting at 2:00 pm EDT/11:00 am PST via Gathr Virtual Events with a discussion to follow with filmmakers Jay Galione, Sheila Dvorak and David Dayan, the Executive Editor of The American Prospect.
Source: Cinema Libre Studio