Cinema Libre Studio Completes Production on Truth-Telling Detainee Feature Film 'I Am Gitmo'
Press Release
•
updated: Sep 28, 2021
Marking 7,200 Days Since Guantanamo Prison Was Opened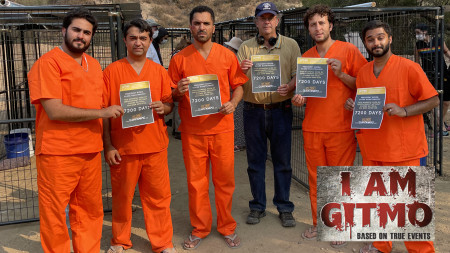 LOS ANGELES, September 28, 2021 (Newswire.com) - Cinema Libre Studio completed production on a feature film depicting for the first time the treatment Guantanamo's Arab prisoners received upon detainment during America's War on Terror. Sammy Sheik ("American Sniper," "NCIS: Los Angeles") stars as detainee Gamel Sadek with Eric Pierpoint ("Liar, Liar," "Alien Nation") as his interrogator. Written and directed by Philippe Diaz ("The End of Poverty?," "Now and Later"), founder of Cinema Libre Studio, the film is based on an original idea derived from true accounts.
Inspired by the declassified legal hearings of previous detainees, the story revolves around an Egyptian man living in Afghanistan with his family when he is kidnapped from his home and delivered to the CIA under suspicion of terrorism in 2002. Sent to Bagram Air Base, he is brutally interrogated and tortured, despite his claims of innocence, then flown to Guantanamo where his status as an "enemy combatant" incurs more brutal treatment.
Sammy Sheik, who is of Egyptian descent, says, "the narrative is being told from the point of view of one of the many victims of the so-called 'War on Terror' and the grave injustices he and many others had to endure, without the usual idolization of the western hero that Hollywood had been presenting for years."
Eric Pierpoint plays the role of an aging interrogator who returns to duty to discover that new, "enhanced interrogation methods" are now acceptable when previously forbidden by the Geneva Convention. This forces him to choose between his country and religious beliefs over fairness and compassion. Pierpoint says, "This movie will show how horrific and constant the use of torture is at American black sites and Gitmo, against suspected Arab terrorists, despite international conventions."
Writer-director Philippe Diaz sees the film "as a response to 'The Mauritanian' and other Hollywood films on the subject that turn their lenses away from the horrific and prolonged experiences of the detainees."
The Guantanamo Bay detention camp was established on Jan. 11, 2002, by the Bush Administration following the Sept. 11, 2001 attacks. Of the 780 people detained there, 731 have been transferred elsewhere, 1 was released in July 2021, 9 have died while in custody, and 39 remain.
According to CloseGuantanamo.org, the camp was a place to hold prisoners "outside the reach of the U.S. courts … where torture and abuse were practiced, and it remains a place where those held are ... men without rights subjected to indefinite imprisonment without charge or trial, whose release can only come about through the whim of the president."
Yesterday represents the 7,200th day since prisoners have been held in the camp.
Learn more at www.IamGitmofilm.com
Source: Cinema Libre Studio
Tags