NEW API 1169 Testing Dates Added According to Training Leader VTES™
The American Petroleum Institute has added a new testing window for API 1169 pipeline inspector applicants for early 2017. By adding this new window, API has recognized the massive industry push to get all inspectors certified by the end of 2018. This means inspectors that missed the deadline for the November 2016 window will not have to wait until April 2017 to take the examination.
Press Release
-
Oct 22, 2016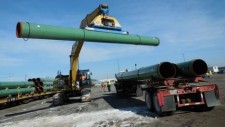 Houston, Texas, October 22, 2016 (Newswire.com) - It is not everyday when the pipeline industry pushes a major certification body to change their schedule. However, this is exactly what has happened regarding the API 1169 - International Pipeline Inspector certification. API has added a NEW testing window from January 28th to February 9th, 2017 with a current application deadline of November 19, 2016. Applicants can begin and submit their application by visiting and reviewing this site. Once there, individuals should look for the orange button at the bottom of the page that says "Start API 1169 Application Now".
During a phone conference with the pipeline industry's world-wide provider of API 1169 training, the statistics for the API 1169 exam paint a very clear picture. "API has reported that there are currently 825 inspectors approved to take the exam in November 2016 with another 77 awaiting approval. That makes it over 900 inspectors for this next test window! Compare these numbers with only 69 inspectors taking the API 1169 exam last July and it isn't a far leap to predict where this is headed," Jessica Krueger, Account Manager and Media Relations Executive for Velocity Training, said during the call.
A multitude of training options for test applicants is available. Approximately 95% of them require inspectors to travel to the classroom site and take time off work to attend the training. While Velocity Training does offer some in-person training classes, their most popular and successful option is in the on-line format. "The ability to study on-line, at your convenience, and to spread that training out over time is what we believe adds to the success rate for our students," added Ms. Krueger.
Inspectors can start their on-line API 1169 training at any time by accessing the on-line study platform from your laptop or other Internet connected device. Assembled below is a step-by-step guide to getting started.
Step 1: Gather all contact information for employment references, gather all diplomas, certificates, or proof of education. 
Step 2: Create an account and submit API 1169 exam application at www.api.org​​.
Step 3: Choose length of training needed at vtes.digitalchalk.com.
Step 4: Enroll in training program.
VTES™ offers a 100% guarantee to students and enrolls them into another training program for free in the unlikely circumstance that they fail the API 1169 exam. All API 1169 training courses offered through Velocity Training are also qualified to be applied towards the AWS CWI recertification professional development hours requirement and are worth 40 hours. Individuals can view their available training options by clicking HERE.
More About VTES™
How long has Velocity Training been involved in the offering of 100% on-line API 1169 exam preparation courses? Their senior instructors and subject matter expert (all former inspectors with extensive backgrounds) spent nearly a year developing the course material before becoming the world's first on-line training platform for the API 1169 in early 2015. Since that time, they have released many updates and revisions to adapt to changes in the API 1169 requirements. Another new release is slated for deployment onto its SCORM-compliant learning management system at the end of November 2016. "Applicants will have unlimited access to their training, will have more tools to succeed, and will have the added benefit of 24/7 on-call support during their training courses," says Ms. Krueger. 
Answering the industry's need for better exam training has also led the Velocity Training team to begin offering API 1169 instructor-led classroom training combined with their on-line supplemental training; creating a blended learning tool capable of extending the depth of retention for inspectors. Either option inspectors choose, will significantly improve their chances of successfully passing the API 1169 Pipeline Inspector certification exam.
Major organizations, in the United States, Canada, and Australia, that offer inspection resources to the oil & gas pipeline transportation companies, have teamed up with Velocity Training to assist their inspection staff and ensure they have the resources to prepare themselves for the exam. The ultimate goal is that they have the certified staff ready for when the industry will implement the API 1169 requirement across all projects.
Source: VTES™ - On Demand Inspector Training
Share:
---
Categories: Educational News, Energy, Energy, Engineering, Growth and Expansion, Vocational; Training
Tags: API, API 1169, education, energy, inspection, regulation
---