Nebo Continues to Evolve as the Most Advanced App for Professional Note-Taking
By giving users the possibility of integrating their handwritten notes in the digital world — using Apple Pencil, Logitech Crayon, Samsung S-Pen (or similar device) — Nebo establishes itself as a real game-changer. With a few taps and strokes, Nebo lets users create and interact with handwritten, typed or dictated notes like never before, via a custom interface that maximizes note-taking accuracy, flexibility and efficiency.
Press Release
-
updated: Sep 13, 2019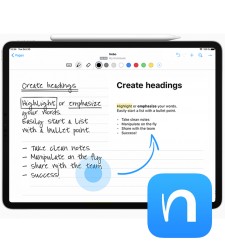 Cupertino, Calif., September 13, 2019 (Newswire.com) - Developed by MyScript and available now for iOS, Android and Windows, Nebo continues to evolve as the most advanced app for professional note-taking that has enabled more than one million users to capture ideas and information in any situation and share them with others.
Nebo builds on years of user feedback and AI innovation to create a platform where anyone can combine the benefits of traditional handwritten notes with a powerful digital interface that enhances the value of these notes with easy manipulation and transformation, conversion, fast searching (including searching handwritten notes) and a variety of sharing and exporting options.
Under the hood is MyScript Interactive Ink, a powerful handwriting recognition and ink management engine offering unparalleled accuracy in 70+ languages, allowing for text, math and shapes to be seamlessly converted and edited using intuitive gestures, and providing users with endless possibilities to structure their notes. This engine is then combined with an array of custom features:
> Take notes with Apple Pencil, Logitech Crayon, Samsung S-Pen (or similar device) or keyboard.
> Convert handwriting into accurate text.
> Structure and style notes with paragraphs, bullet points, titles and highlights.
> Easily switch between input devices (pen, keyboard, voice).
> Draw sketches or interactive diagrams to quickly develop ideas.
> Select and copy/paste in Nebo or to any other app.
> Annotate images.
> Export and share notes in Word, text, PDF or HTML format — directly with colleagues or publish via a secure link.
With over 1 million downloads, Nebo has been well received by users, with a rating of 4.4 on the App Store and 4.2 on Google Play (ratings out of a 5).
"Nebo leverages the power of the MyScript engine to provide users with the best note-taking experience available today." Commented MyScript Chief Strategy Officer Denis Manceau. "It is not only the result of a strong expertise in artificial intelligence, it is also shaped to make our users more and more productive."
For more information, check http://www.nebo.app
About MyScript​​
Since 1998, MyScript develops a cutting-edge technology meant to build up interactive, human-machine interfaces using handwriting. By putting ink at the core of the digital world, MyScript gives users the opportunity to interact with any digital device in the easiest and most intuitive way.
With more than 70 languages supported and a truly international team, MyScript serves customers worldwide from its headquarters in Nantes, France, and regional offices located in China, Japan, Korea and the U.S.
Learn more: https://www.myscript.com 
Source: MyScript
Share:
---
Categories: Mobile and Smart Phones
Tags: Android, App, Apple Pencil, iOS, Logitech Crayon, MyScript, Nebo, Note-taking, Notes, Samsung S-Pen, Windows
---
Related Files
Additional Links