NDSU Cyber Team Has Four Top Ten Finishes, Student Places in Top 50 Cyber Warriors Nationally
North Dakota State University students excel at cybersecurity competitions and win national awards in several areas.
Press Release
-
updated: Nov 23, 2018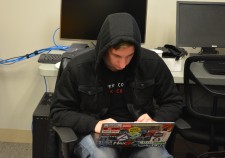 FARGO, N.D., November 23, 2018 (Newswire.com) - North Dakota State University students demonstrated that they are ready to become the next generation of cyber warriors, whether in the role of a military service member, civilian government employee or in the private sector. They won four top ten finishes in the National Cyber League's Fall 2018 team competition and 19th place overall, out of over 350 teams. One student, team captain Isaac Burton, also placed 45th out of 3324 students nationwide in the individual competition.
NDSU's team took seventh place – nationally – in open source intelligence, ninth place in password cracking, eighth place in log analysis and seventh place in network traffic analysis. Along with Burton, who served as captain, NDSU's Gold team had four additional members: Jack Hance, Taylor Schmidt, Lucas Miller, and Demitrius Fenton.
The National Cyber League – or NCL for short – was founded in 2011 to provide, according to the organization, "engaging, entertaining, measurable, and scalable methods of learning to enlist a new generation of cybersecurity professionals." NCL was founded by the Cyber Security Privacy and Research Institute, the Center for Systems Security and Information Assurance, CyberWatch West, the Mid-Pacific Information and Communication Technologies Center and the National CyberWatch Center.
In addition to Burton's top 50 finish, Miller and Hance ended up in the top 10 percent of students nationwide and Schmidt, Fenton and Steven Karschnia placed in the top 20 percent.
"All of these students are showing that they have what it takes to succeed in real-world cybersecurity positions," said NDSU Assistant Professor Jeremy Straub, who mentors the National Cyber League Team. Straub is also the Associate Director of the NDSU Institute for Cybersecurity Education and Research. "The competition tests students on skills that they will need to perform jobs that are in extremely high demand under the significant time pressure of the competition. Students that do well in NCL can expect to be sought after by recruiters."
As part of the competition, the team had to demonstrate its cybersecurity skills in multiple areas including open source intelligence, cryptography, scanning, password cracking, log analysis, network traffic analysis, wireless access and web application exploitation and enumeration and exploitation. The team had to perform in all of these areas to reach the top 20. In the areas of open source intelligence, cryptography, log analysis, network traffic analysis, scanning and recon, and wireless access exploitation, the team earned all of the possible points.
For team captain Burton, participating in NCL is about both the learning experience – as well as seeking a job in the field.
"It has helped me display my skills, allowing me to show companies what I can bring to their company," said Burton. "I've learned that learning to work in a team is important to succeed. I enjoy the experience and want to keep experiencing the growth that I have over the last year."
This is Burton's third season of competing in the NCL competition. In the Spring 2018 competition, he placed in the top 100 of over 2,000 competitors, nationwide; in the Fall 2017 competition, he placed in the top 15% nationwide.
Students are learning during their preparation for the competition and even during it.
"The National Cyber League is a great opportunity to compete with your peers using your cyber skills and learn new things together," said Fenton. "While I've been competing in NCL for a year now, I still learn new cyber skills every time I compete."
The NDSU Institute for Cybersecurity Education and Research is leading North Dakota's academic pursuits in the dynamic field of cybersecurity. Headquartered in NDSU's Department of Computer Science, the institute has 11 faculty members from computer science, emergency management and electrical and computer engineering, as well as the Upper Great Plains Transportation Institute. It aims to meet the public need for leading-edge cyber security software development and information technology practices. It serves the information technology and computing professionals, practitioners and endpoint users who operate the public and private enterprises of the state.
Source: NDSU Computer Science
---
Categories: IT Security
Tags: college team, competition, computer security, cybersecurity, North Dakota, top 10
---