NDSU Computer Science Launches Four Cybersecurity Enhanced Graduate Degrees
New degree programs give students the cybersecurity skills for both today and tomorrow.
Press Release
-
updated: May 21, 2018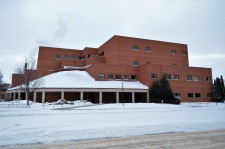 FARGO, N.D., May 21, 2018 (Newswire.com) - The North Dakota State University Department of Computer Science announced the launch of four new cybersecurity enhanced graduate degree programs. The department's master's and doctoral degrees in both computer science and software engineering now offer students the opportunity to gain and demonstrate cybersecurity skills with a degree option in that area.
The new degree programs are designed to produce the next generation of software development and information technology professionals, researchers and academics. Cybersecurity is key to all of these areas. The graduates of these programs will be well-equipped to ensure that the next generation of computer software and websites do not have the vulnerabilities that have led to the ever-growing list of data breaches and compromises.
"Our goal is to produce graduates that are well-equipped to prevent future security problems – in addition to solving the problems of today," said NDSU computer science assistant professor Jeremy Straub, who led the effort to create the graduate degree options. "We decided to focus on adding cybersecurity to our existing computer science and software engineering programs because this produces graduates that have the skills for both today and tomorrow. Students learn both the cybersecurity skills that they need to hit the ground running in a research or commercial environment, as well as broader theory, computational science and software development practices."
All of the courses in NDSU's cybersecurity program have been locally developed and most will be available to both local and distance students via the internet. All are taught by full-time faculty members holding a doctoral degree. Many also incorporate content provided by current cybersecurity professionals.
With hundreds of cybersecurity jobs unfilled in North Dakota alone and hundreds of thousands of open positions nationwide, there is considerable need for graduates in these areas. The broader computer science and software engineering skills students will learn in these programs prepare them, not just for an initial position, but for a successful career. 
"Our highly capable computer science faculty members have gone the extra mile to develop high-quality new courses and programs in cybersecurity," noted Computer Science Department Chairman Kendall E. Nygard. "Our local NDSU professors conduct leading-edge research that enhances the graduate-level cybersecurity education that we provide."
The new degree options build on NDSU Computer Science Department's history of high-caliber graduate education. The department was the first in the state to offer graduate programs in computer science and one of the first in the region to offer a Ph.D. in the discipline. 
In addition to the new degree options, NDSU also offers a graduate certificate and an undergraduate recognition in cybersecurity.
The NDSU Computer Science Department was founded in 1988 (though computer science courses were offered as part of Mathematical Sciences since 1973). It offers Ph.D. degrees in computer science and software engineering, three master's degrees and two bachelor's degree programs. It occupies 7,460 square feet in NDSU's Quentin Burdick Building and has approximately 600 graduate and undergraduate student majors. The department houses the NDSU Institute for Cyber Security Education and Research which leads North Dakota's academic pursuits in the dynamic field of cybersecurity.
Source: NDSU Computer Science
Share:
---
Categories: IT Security
Tags: computer science, cyber security, cybersecurity, degree programs, doctoral degree, M.S., masters degree, NDSU, North Dakota, Ph.D.
---