Multi-Award Winning Play, Who'll Save the Plowboy, Returns to Off-Broadway
Press Release
•
Oct 6, 2015
"A starkly taut, clear cut drama painful in its insights, poignant in its subtleties." - The New York Herald Tribune. Winner of the Obie Award in 1962, Pulitzer Prize Winning playwright Frank D. Gilroy gave his blessings on this upcoming revival before his recent passing: "Your persistence is flattering and wins my approval."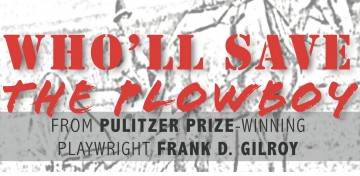 New York, NY, October 6, 2015 (Newswire.com) - ​Albert Cobb was going to be a farmer, so his Army buddies called him "Plowboy". One buddy, Larry Doyle now dying, has come for a last visit hoping to content himself that he did one good deed: saving Albert's life during a wartime scrimmage. He finds a man who has failed at farming and everything else, including marriage. With a disabled child, deceived by his wife and his own beliefs, Albert's attempts to deceive Larry only make the deception more evident, leaving him alone with his own self-delusions. The play is written by the author of the Pulitzer Prize-winning play The Subject Was Roses, Frank D. Gilroy.
The director, Marcia Haufrecht, has worked on both revivals and original plays at Ensemble Studio Theatre, The Actors Studio, The Common Basis Theatre and in Australia, Portugal, and Austria. For three years (2006-2008) she has directed extremely successful productions in Lisbon, Portugal, of "Collected Stories" at the Communa Theatre, and at The National Theatre "Frozen", and the Portuguese premiere of Eric-Emmanuel Schmitt's "Oscar & The Lady In Pink". She was a student of Lee Strasberg's and subsequently a teacher at The Lee Strasberg Theatre Institute (including NYU courses) for five years. She also worked as an adjunct professor in the film graduate program at Columbia University for 2 years. She has taught and coached privately for over thirty years. Her students include Ellen Barkin, Alec Baldwin, Janine Turner, Debbie Mazur,Loren Dean, David Duchovney, Uma Thurman, John Leguizamo. Most recently she coached Harvey Keitel. She is a long-standing member of The Actors Studio, Ensemble Studio Theatre and Founder and Artistic Director of The Common Basis Theatre.
The cast includes ​​​Spring Condoyan (National tours: Butterflies Are Free, The Irrepressible G.B. Shaw; original cast member of NBC's "Law and Order"), ​​​Robert Haufrecht (Pinter's The Lover, The Homecoming; Lanford Wilson's Burn This), ​​​Julie Hays (Atlantic Theater's Home Therapy Kit; Manhattan Shakespeare), and Jerry Rago, who is the driving force behind this production and will be playing the lead role of 'Albert Cobb'. Rago is a former semi-professional baseball player (in the Tigers Organization) turned professional actor. He has trained at the Terry Schreiber Studio, the American Musical & Dramatic Academy, and the London Academy of Music & Dramatic Arts. Rago's credits include A Man Called Peter at The Lambs Theater in New York (OOBR Award for Best Actor), Bottom in A Midsummer Nights Dream at The McOwen Theater in London, and Ted Asaro in the New York Premiere of Israel Horovitz'Barking Sharks.
The revival of Who'll Save the Plowboy? is made possible by special arrangement with Samuel French Inc and is presented by Lauren Rayner Productions, a three-time (seven-time nominated) NY Innovative Theatre Award winning production company, and produced by Jeanette Bonner and Lauren Rayner (Take Me Home - the show in a taxi) with Executive Producer Jerry Rago.
PERFORMANCE SCHEDULE: November 4th – 21st 2015; Friday, November 6th (Opening night)
VENUE: The Davenport Theatre Black Box at 354 West 45th Street
Visit www.whollsavetheplowboy.com for tickets and more information.