Whiskey Pants: The Mayor of Williamsburg Opens at HERE
Press Release
•
updated: Sep 7, 2017
The Mayor Returns!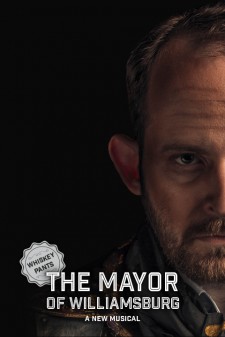 NEW YORK, September 7, 2017 (Newswire.com) - Critically-acclaimed company, Mind the Art Entertainment, kicks off their 10th season with a new production of their award-winning musical WHISKEY PANTS: THE MAYOR OF WILLIAMSBURG, set to open Sept. 28th at HERE.
In a land where the whiskey is always flowing, an ambitious young painter is faced with a life-altering choice: Give up on her dreams and embrace a carefree life or lose her father, the powerful Mayor of Williamsburg. Will she leave behind the only family she's ever known? Or will she discover that in Williamsburg, it's easier to drink than to think? From the New York Innovative Theater Award-nominated team behind FATTY FATTY NO FRIENDS comes a new musical about hope, family, whiskey, and reconciling the dreamer within.
Quotes provided by: Onstage and Off the Beaten Track Theater.

Christian De Gré, President
"Whiskey Pants creates a full alternate universe that is equal parts quirky and dystopian. A strong musical that looks great and sounds even better."— ONSTAGE
"Whiskey Pants is not just an excellent show, it is the perfect answer to the accusation that there is no new musical theater of quality being made." - OFF THE BEATEN TRACK THEATER
The cast features Bernard Holcomb, Caitlin Mesiano, Charlie Tingen, Chloe Fox, Claudillea Holloway, Eric Michael Parker, Jeffrey Hodes, Michelle Ireton, Nicholas Connolly, Raquel Suarez Groen, Sarah Cohen, Sarah Koenig-Plonskier, Stefanie Londino, Tony Mowatt, and Vincent Hale as the cast. The creative team, under director Christian De Gré and creative producer R. Patrick Alberty, includes a diverse group of artists representing the boiling cauldron of Williamsburg: Trevor Pierce (Musical Director), Allan Washington (Movement Director), Ashley Soliman (Costume Design), Kate Marley (Make-Up Design), Brian Freeland (Scenic Design), Christina Watanabe (Lighting Design), Wes Shippee (Sound Design), R. Patrick Alberty (Video Design), Philip Makara (Graphic Design), Ze' Castle (Photography), Aaron Sanko (Music Supervisor), Thomas Michael Culhane (Production Supervisor) and Brianne Stewart (Stage Management).
Created by Christian De Gré, Joseph Reese Anderson, and Serrana Gay, Whiskey Pants had its world premiere in 2015 at New York's FRIGID Festival where it was the sold-out hit of the festival, receiving three awards, including audience favorite. This new environmental production is a part of SubletSeries@HERE: a curated rental program, which provides artists with subsidized space and equipment, as well as technical support.
DATES: Sept. 28 - Oct. 28; Wednesday - Saturday at 8:30 p.m./Saturdays & Sundays at 4:00 p.m.
VENUE: HERE, 145 6th Ave. (Enter on Dominick, 1 Block South of Spring); For Tickets & Information: visit here.org or call 212-352-3101
TICKETS: $35/$50; http://here.org/shows/detail/1938/
http://www.mindtheartentertainment.com/current-production/
MEDIA CONTACT:
Malini Singh McDonald
malini@theatrebeyondbroadway.com
917/951-0673
Source: Mind The Art Entertainment
Related Media
Tags
Additional Links