Military Veteran Suicide Prevention Study Identifies Gaps in Documenting Veterans' Status Between Local and National Levels
Lack of standardized information gathering impedes the ability to gauge the full magnitude of suicide and the steps needed to eliminate it within veteran communities
Press Release
-
updated: Jul 9, 2019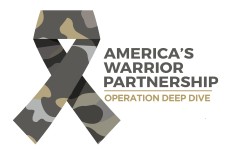 WASHINGTON, July 9, 2019 (Newswire.com) - America's Warrior Partnership has published its first annual update on Operation Deep Dive, a four-year project currently studying the community-based factors involved in suicide among military veterans. The report presented the study's progress and detailed researchers' first key finding, which is that data on veteran suicides is not collected and maintained in a systematic method across county, state and federal levels. This inconsistent information gathering is significantly impeding the nation's ability to fully measure — and, in turn, prevent — suicide among veterans.
"Our country is currently using incomplete veteran suicide data to develop programs for a problem that we still do not fully understand," said Jim Lorraine, president and CEO of America's Warrior Partnership. "To ensure our nation can effectively eliminate veteran suicide, we must first coordinate more efficient data-sharing between academic institutions, the Department of Veterans Affairs and Department of Defense, and local coroners and medical examiners."
Operation Deep Dive researchers have identified the following issues that are amplifying the problem of unstandardized information collecting and reporting:
The responsibility for maintaining death records varies from county to county and state to state.
The responsibility for reporting veteran status on death records varies by county and institution.
The process and parties responsible for signing off on death records and checking the "veteran status" box vary by county before the records are submitted to the Department of Health.
The process for accessing records of suicide among veterans varies by county, with some requiring a subpoena or data-sharing agreement that takes significant time to secure.
Many states do not have a standard process for tracking whether a deceased person is a veteran, and those that do often lack the inclusive language of all veterans.
"By the time Operation Deep Dive concludes in late 2021, we aim to develop a methodology that counties and states across the country can adopt to overcome these challenges," said Lorraine.
A major accomplishment of Operation Deep Dive's first year was the development of the "Sociocultural Death Investigation" (SDI) tool, which was designed to guide how researchers conduct interviews with family members, colleagues, friends and other loved ones of deceased veterans. Researchers will use the SDI tool over the course of the study to better understand the lives of veterans who recently died by suicide or self-harm. The goal of these interviews is to identify opportunities for prevention before a veteran enters a crisis situation.
Launched in December 2017, Operation Deep Dive is being conducted by America's Warrior Partnership, in collaboration with researchers from the University of Alabama and support from the Bristol-Myers Squibb Foundation. As a community-based initiative with a national scope, the project is designed to be led by and for local communities to ensure they gain direct and tangible benefits that are tailored to the unique veterans in their area.
To view the complete Operation Deep Dive Year One Report, visit www.AmericasWarriorPartnership.org/Deep-Dive/.
About America's Warrior Partnership
America's Warrior Partnership is committed to empowering communities to empower veterans. We fill the gaps that exist between current veteran service organizations by helping nonprofits connect with the veterans, military members and families in need: bolstering their efficacy, improving their results and empowering their initiatives. America's Warrior Partnership is a force multiplier for warrior community integration that enhances communities where great Americans choose to live and contribute. For more information on the organization and how to get involved, visit www.AmericasWarriorPartnership.org.
Source: America's Warrior Partnership
Share:
---
Categories: Research and Development
Tags: Bristol-Myers Squibb Foundation, community, local, military, national, research, suicide prevention, The University of Alabama, veteran suicide
---
Related Files
Additional Links