America's Warrior Partnership and Alaska Coalition for Veterans & Military Families Bring National Resources to Local Veterans
Press Release
•
updated: Jun 11, 2020
Community Integration service model strengthens partnerships between Alaskan community organizations and the veterans they serve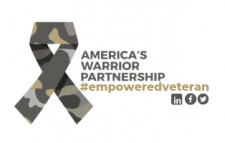 WASHINGTON, June 11, 2020 (Newswire.com) - America's Warrior Partnership and the Alaska Coalition for Veterans & Military Families (AKCVMF) are collaborating on an initiative to empower Alaskan community organizations with national resources and best practices for serving local military veterans, their families and caregivers. Since formalizing their partnership in late 2019, AKCVMF has worked with America's Warrior Partnership to develop and fund support programs for local veterans, including services responding to the impacts of the COVID-19 pandemic.
"Our signature service model, Community Integration, emphasizes a one-size-fits-one approach that enables local organizations to better connect with both veterans and partnering service providers," said Jim Lorraine, President and CEO of America's Warrior Partnership. "The Community Integration program's success hinges on a local leader who understands the strengths and weaknesses of existing veteran support programs, ensuring that resources are appropriately allocated. AKCVMF is perfectly positioned to fill this role in empowering Alaskan veteran."
"We connect dozens of veteran-serving organizations across the state, and with the support of America's Warrior Partnership, we can introduce our coalition to national partners and resources to fill any gaps in local services," said Magen James, Executive Director of AKCVMF. "Strengthening our networks of support has already had a positive impact, as we were positioned to provide additional resources to veterans navigating the COVID-19 crisis."
The Community Integration service model is built around four key pillars:
1. Connect veterans with requested services and community resources;
2. Educate veterans about the opportunities available to them, while also educating the community about the value that veterans can offer in a civic capacity;
3. Advocate on behalf of veterans to ensure their community delivers continuing support; and
4. Collaborate with veterans and the community to create and implement holistic plans that improve their quality of life.
Alaskan military veterans, families and caregivers seeking assistance can contact the AKCVMF through the link on our website: https://www.akcvmf.org/assistance.html.
About the Alaska Coalition for Veterans & Military Families
The Alaska Coalition for Veterans & Military Families (AKCVMF) is a network of organizations throughout Alaska that work together to meet the needs of local service members, veterans and their families. AKCVMF's mission is to educate, inform and help connect this population with services to ensure healthy futures. For more information, visit www.akcvmf.org.
About America's Warrior Partnership
America's Warrior Partnership is committed to empowering communities to empower veterans. We fill the gaps that exist between current veteran service organizations by helping nonprofits connect with the veterans, military members and families in need: bolstering their efficacy, improving their results and empowering their initiatives. America's Warrior Partnership is a force multiplier for warrior community integration that enhances communities where great Americans choose to live and contribute. For more information, visit www.AmericasWarriorPartnership.org.
Media Contacts:
Anthony Popiel, Dalton Agency 404.876.1309; apopiel@daltonagency.com
Source: America's Warrior Partnership