Metal Defender Provides Metal Detectors for Kelly Clarkson and Sugarland.
Press Release
•
updated: Aug 29, 2018
Metal Defender provides metal detectors for Nebraska State Fair concerts.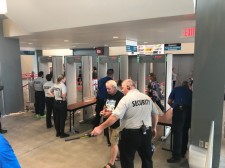 MINOOKA, Ill., August 29, 2018 (Newswire.com) - Metal Defender INC. provided 8 walk-through metal detector units for the Nebraska State Fair during the concerts that took place over the week-long event, primarily installed for the Kelly Clarkson and Sugarland concerts at the Heartland Events Center. The walk-through metal detectors provided excellent security for the duration of the events ensuring that all weapons and contraband were found and disposed of prior to the concerts start times. With a lot of patrons bringing in pocket knives and various other contraband, Metal Defender technicians stayed on site to provide real-time calibration in accordance with the Nebraska State Fairs guidelines.
Doors opened at 5:30 P.M. with an estimated 4400 people attending the Kelly Clarkson and Sugarland concerts. There were technicians on site alongside the security company. Double Lock, providing excellent service throughout, made sure those that were standing in line entered the concert floor with an estimated wait time of only 2-3 minutes. By the time the concerts started at 7:30 P.M. the only concertgoers that didn't make it in time were those that showed up after the concerts started. The units through direct detection found 20+ pocket knives and various other metal objects that normally would not be allowed on the concert grounds.
Last year was a learning process and we took what we learned last year, applied it to this year and that resulted in one of the most efficient events we've ever worked.

Cody Sweeney, Install Tech
Double Lock was happy with the progress the event had made over last year's concerts. With many of the security staff being off-duty police officers and TSA agents, they had become accustomed to metal detectors in their respective fields. Of the estimated 4400 people that showed up for each concert only 27% of patrons were found to require additional screening via hand held security wands. This means that 73% of patrons were able to enter virtually unimpeded.
Technicians arrived the day before the events to set-up and calibrate 8 units so that they were fully functional and operating as intended prior to the concerts. At that time they also provided training for the management staff on proper usage and calibration techniques pertaining to the units.
The Metal Defender employees that were on site were the same ones who provided the products the previous year. After doing the event last year for acts such as Lyndard Skynard and Joan Jett, Metal Defender employees were able to calibrate the units to a degree that allowed an extremely fast entry rate while also providing the security that was needed. Cody Sweeney, one of the site technicians, had this to say; "Last year was a learning process and we took what we learned last year, applied it to this year and that resulted in one of the most efficient events we've ever worked."
Metal Defender has been providing services like this since its inception as a company and has done a multitude of events proving that it is the premier provider of walk-through metal detectors in the United States for rentals and purchases alike.
For your walk-through metal detector needs please contact the company at the information below for a free consultation/quote.
Damien Kojder
Senior Sales Manager
815-290-5354
Source: http://www.metaldefender.com
Related Media