Metal Defender at the Heartland Events Center
Press Release
•
updated: Sep 21, 2017
Metal Defender provided Walk Through Security for 150th Nebraska State Fair, acts such as Lynyrd Skynyrd, Joan Jett, and Cole Swindell.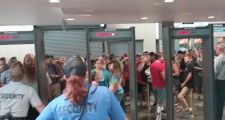 GRAND ISLAND, Neb., September 21, 2017 (Newswire.com) - This was a relatively large event for the new upcoming security brand but due to time-sensitive circumstances, they had shown how valuable an asset they could be within the industry. Metal Defender was contacted just 24 hours prior to the first concert and asked to drive 600 miles with a total of 8 MD-6 Walk-Through Metal Detectors. With absolutely no hesitation whatsoever in 18 hours, two Metal Defender technicians had arrived, set up, and stood by troubleshooting any issues that arose on this 3-day dilemma. This shows a great deal of customer care and a great ability to act in short notice predicaments.
All spectators had made it to their seats in an effective, timely manner, being able to enjoy the concert. Security guards boasted about not having to constantly wand each and every single individual as the units had granted substantial relief in the security process. Their praise was greatly appreciated due to how many of them had professions where they would normally deal with metal detection such as Correctional Officers, Sheriffs, and even TSA agents.
We are very happy thank you, even with the short notice your company showed up on time and very professional, your staff performed flawlessly to guide us through our events and your equipment did the same. The Nebraska State Fair thanks you and your staff for all the help and we are looking forward to working with you in the future!

Don Adams, State Fair Production Manager
When all was said and done, Metal Defender had received a vast amount of outstanding comments and overall perfect customer satisfaction. All sources seem utterly pleased at the fact that Metal Defender was able to provide tier-1 support in a very urgent time frame.

Damien Kojder
Metal Defender
815-290-5354
Sales@metaldefender.com
Source: Nebraska State Fair
Source: Metal Defender
Related Media