Macias PR Named the 2016 Top Financial PR Firm by Finance Monthly
The international financial publication, Finance Monthly, has released the winners for its 2016 M&A Awards. For the second year in a row, the New York-based public relations firm, Macias PR, is named the top PR firm in the USA based on the firm's media deliverables, expertise, innovation in PR and strategy and execution.
Press Release
-
Aug 10, 2016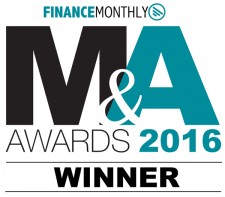 New York, New York, August 10, 2016 (Newswire.com) - Finance Monthly has announced the winners of its 2016 M&A Awards for the best firms in public relations, accounting, legal, compliance, asset management, consulting and banking.
For the second year in a row, the New York-based public relations firm - Macias PR – is named the top financial PR firm in the USA. Other winners include KPMG for Taxation Firm of the Year, UBS Wealth Management for Investment Firm of the Year, Deloitte for Business Outsourcing Firm of the Year and China Bank for Banking and Finance Firm of the Year.
Macias PR was the only public relations firm selected in the USA by Finance Monthly.
"Finance Monthly's research department has spent the past several months carefully researching and identifying some of the most respected individuals and firms from all over the world," said Editor-in-Chief Mark Palmer. "All of our M&A Awards winners show an insight into the market that proves why the demand for expert deal makers continues to increase year upon year."
Researchers with Finance Monthly applied a 10-point criterion in selecting the best firms in public relations, legal, accounting, consulting and asset management across Asia, Europe, Latin America, North America and the Middle East.
In public relations, researchers quantified the firm's media expertise by measuring media placements with top tier publications, and by interviewing current clients. In 2016, Macias PR secured stories for its clients with The Financial Times, Barron's Magazine, The Wall Street Journal, CNBC, Fox Business, Bloomberg News, The Street, Reuters, US News & World Report, The American Banker, Kiplinger's Magazine, MSN Money, Wall Street Lawyer and others.
In respect to innovation, Macias PR organized hedge fund and private equity forums in New York and Connecticut that brought investors, fund managers and financial service firms together for seminars that explored emerging trends in alternative assets. Several service sector industries have sponsored hedge fund and private equity forums in the past, but Macias PR was the first firm to envision the event on video and syndicate the content to news organizations.
"It takes a deep understanding of the media to run a successful media campaign, but to secure prominent media placements for clients across different industries requires a special talent," Finance Monthly wrote in its profile story on Macias PR. "It is this innovation in client care, expertise in financial PR, deliverables within the media, strategic thinking and planning that has led Finance Monthly to name Macias PR the 2016 Financial PR Firm of the Year – USA."
Macias PR was founded in 2009 by Mark Macias – a former Executive Producer with NBC, Senior Producer with CBS in New York and author of the business book, Beat the Press: Your Guide to Managing the Media. He's currently a contributor for CNBC, giving PR, media analysis and crisis advice on timely business and political stories.
"Many executives and entrepreneurs believe that connections drive media placements," Macias told Finance Monthly. "Yes, media connections help but a successful media campaign ultimately begins with a successful media strategy and an understanding of how the media works. The media jungle is a vicious animal when you are inside of it on a daily basis, pitching stories and debating story selection with other producers and journalists. That was my career and it's a strategy and insight that we bring to every client."
Finance Monthly is a global publication that delivers news, commentary and analysis on the financial sector. The publication reaches the most influential financial leaders in the world, including CEOs, CFOs, investors, company directors, entrepreneurs, and SMEs.
Source: Macias PR
Share:
---
Categories: Business Technology, Finance, Investments, Healthcare Technology
Tags: best financial pr firms in nyc, best healthcare pr firms, best pr firms in nyc, best strategic pr firms nyc, finance monthly winners 2016, macias pr, mark macias, top financial pr firms, top financial pr firms usa, top healthcare pr firms
---