Mable and Smart Warehousing Partner to Provide an Innovative 3PL Solution for Emerging, Better-for-You CPG Brands
Press Release
•
Feb 8, 2023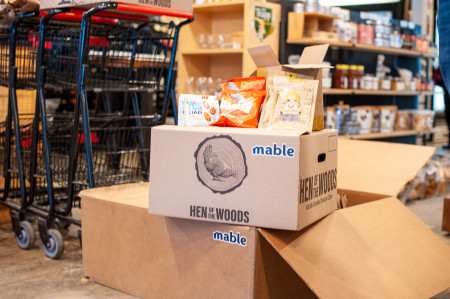 OVERLAND PARK, Kan., February 8, 2023 (Newswire.com) - Smart Warehousing, an industry-leading warehousing, fulfillment, and logistical solutions company with 38 warehouses throughout the US, is announcing a partnership with Mable, a wholesale platform representing over 3k emerging, better-for-you food brands. The partnership provides small, new-to-market food and beverage brands with a flexible 3PL solution.
"We are very excited to put our innovative technology and network of fulfillment locations to work for Mable. By helping to position inventory, in the right place at the right time and in the right quantity, Smart Warehousing can help brands of all sizes compete and grow their business across all channels," said Smart Warehousing CEO Carl Wasinger.
To date, Mable's technology has enabled brands to ship directly to retailers buying their products on meetmable.com. But with larger chain retailers using the platform to source emerging brands and increased demand for small, better-for-you brands, the Smart Warehousing partnership serves as a complementary solution to the direct ship model.
An initial pilot kicked off in December 2022 with a selection of high-velocity Mable brands, with Mable purchasing bulk inventory upfront to stock the warehouse. Mable orders for participating brands are now being processed through an algorithm to determine the most efficient shipment method - whether that be direct or fulfillment through Smart Warehousing. When a retailer orders all of the participating brands, the items arrive together in a single shipment.
"We've long known the traditional distribution model isn't a fit for every CPG brand, especially the small emerging ones. Many of our brands are small companies that have the consumer demand but don't have the means to join mainline distributors just yet. We're thrilled to be able to offer our customers an innovative distribution solution through our partnership with Smart Warehousing," said Arik Keller, CEO and Founder at Mable.
For Mable brands, the partnership provides an additional distribution option with a pre-vetted partner. It also reduces operational work on small orders and enables brands to offer lower order minimums. There is also no order minimum for Mable brands to start using Smart Warehousing. For retailers, the partnership guarantees 2-day shipment, lower order minimums, and the lowest possible landed costs.
About Smart Warehousing
Smart Warehousing is a warehousing and fulfillment company that operates as a direct extension of its clients' teams. With dedicated customer support associates, state-of-the-art technology, and highly automated processes, Smart's model is a fully optimized solution that satisfies the fulfillment needs of merchants and sellers throughout the World. Learn more at smartwarehousing.com.
About Mable
Mable is on a mission to expand access to better foods through innovative distribution solutions. Mable helps retailers build their next generation of loyal customers through tech-enabled distribution of local, values-driven brands. From single store operators to enterprises, Mable offers standalone and integrated solutions for product discovery, invoicing and reordering. Learn more at meetmable.com.
Source: Smart Warehousing