Leading Rapid Manufacturing Company WayKen Has Incorporated Lean Manufacturing in Its Machining Procedures
WayKen is dedicated to continually improving and optimizing the capabilities of all custom manufacturing applications from prototype to production and our quality control processes, including CNC machining, rapid prototyping and rapid tooling.
Press Release
-
updated: Aug 16, 2019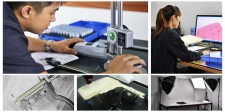 SHENZHEN, China, August 16, 2019 (Newswire.com) - WayK​en is a renowned Rapid Manufacturing Company in China that does lean production. It has a team of experts who help in actualizing client ideas from prototype to production. ​​​​​​​​​​WayK​en​ was recently listed as one of the top lean manufacturing companies in China. The company, situated in Shenzhen, is one of China's best prototype manufacturers offering a wide range of services.
​​​​​​​​​​WayK​en is a reliable company in the low volume production of custom parts through lean manufacturing. Lean production is a custom machining procedure that focuses on reducing waste and increasing productivity. Most companies in the rapid manufacturing industry or those that deal with the creation of custom parts have to incorporate lean manufacturing to be more productive.
This procedure makes customers happy and also reduces the CNC prototyping cost. ​​​​​​​​​​WayK​en​ is one company that incorporates lean manufacturing in its CNC machining services to leave customers more satisfied. The company is guided by the five principles of lean manufacturing in ensuring that waste is minimized in any CNC project carried out, and customer satisfaction is guaranteed.
WayKen Proactively Embraces Principles of Lean Manufacturing
The process detailed in the book Lean Thinking has guided Wayken in successfully implementing lean manufacturing in production.
Identifying Customer Value
The value of a product should be specified by the customer even though the producer creates it. WayKen values the stand of their clients on their products. This has guided the company in ensuring products that meet the required customer quality are produced.
Stream Value
Identifying stream value involves evaluating the movement of information and materials needed in custom productions. This should be noted down to make it easy to reduce waste and enhance productivity. WayKen has state of the art technologies used in rapid tooling procedures that help establish the stream value and lower production costs.
Flow Creation
After identifying the stream value, every other process should flow smoothly with no long queues or any stoppages. This guiding principle has helped the company to become more productive to meet all customer demands.
Pull System
Lean manufacturing utilizes a pull system more than a push system. The company can only commence any new work that requires lean manufacturing upon customer request. WayKen allows customers to pull a product, ensuring all their needs are met.
Perfection
Lean manufacturing requires perfection that can only be met by following the first four principles. WayKen has put all measures in place to establish the key factors behind quality issues and to minimize waste in the stream value, guaranteeing top perfection.
Lean Manufacturing Benefits for WayKen
Lean manufacturing has proved to be beneficial in different ways which include:
Increased Processing Time
The time taken from the initial phase of the production process to the completion phase reduces significantly. Minimal delays are experienced during the lean manufacturing process. This is vital for customer satisfaction.
Continuity
Businesses that adopt the lean production method thrive in the long-term. This is because of the minimal waste produced which makes them more prepared to take on the future.
Increased Productivity
Less waste during the production process makes your company more productive. It encourages proper utilization of available resources. Companies that use lean production methods are more profitable.
Quality Production
The quality of items being produced are top-notch when lean production methods are utilized. WayKen Rapid Manufacturing Limited enjoys all these benefits, thanks to the lean production procedures they are using.
Visit https://www.waykenrm.com/resources/quality-assurance to find out more.
Wayken has all the necessary measures put in place to be listed as one of the best companies offering services such as rapid prototyping China. Prioritizing efficient production procedures like lean manufacturing made it listed as one of the companies using the method in China.
Source: WayKen Rapid Manufacturing
Share:
---
Categories: Production and Manufacturing
Tags: CNC machining services, Custom machining, Lean manufacturing, Prototype manufacturers
---