Leading Experts Update Learning Track to Offer the World's Most Comprehensive Development Program for Agile Coaching
The revised training programs will be offered by ICAgile Member Organizations.
Press Release
-
updated: May 17, 2018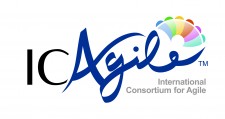 CHICAGO, May 17, 2018 (Newswire.com) - The International Consortium for Agile (ICAgile) announced today the release of a revised Agile Coaching learning track which includes two professional certifications: Agile Team Facilitation and Agile Coaching. This is the first time ICAgile has comprehensively revised and re-published a learning track of this magnitude to the global community.
"Agile principles and the supporting methodologies and frameworks have been around for more than two decades. Although inspecting and adapting is a key agile tenet, many agile training providers fail to do just that. That's why ICAgile was built on the premise of consistent collaboration with industry experts to craft and update leading-edge learning programs. We ensure the learning is relevant and applicable," said Ahmed Sidky, ICAgile's president.
ICAgile's Agile Coaching learning track was first published in 2013 in collaboration with Marsha Acker, Lyssa Adkins, Michael Spayd and Ahmed Sidky. The development of this track was in response to an overwhelming need to provide clarity around this profession and discipline. ICAgile was instrumental in bringing consistency and rigor to the discipline and setting Agile Coaches up to make significant impacts in transforming organizations.
"I've seen firsthand how the Agile Coaching learning path dramatically increases the impact of the Agile Coaches who have learned from it, practiced and proven their competence," said Lyssa Adkins, president emerita of Agile Coaching Institute. Marsha Acker, president at TeamCatapult, added, "The competencies have had such a positive impact on the individuals and organizations that have fully embraced them and incorporated the practices into how they work each day."
The track was redesigned in collaboration with Marsha Acker, Lyssa Adkins, Luke Lackrone and Timothy Meyers. Thirty additional industry leaders and coaching practitioners were invited to participate in a comprehensive review process to ensure the appropriate depth and breadth of perspectives.
"The learning codified in this track really was the first to define the discipline of Agile Coaching, and this update keeps it fresh and moves it forward," said Timothy Meyers, chief technologist at Booz Allen Hamilton. Luke Lackrone, chief technologist at Booz Allen Hamilton, added, "Among our additions in this release, I'm especially excited we were able to introduce systems coaching concepts, and I'm excited to see how training organizations bring these to life."
Students who successfully complete both programs on this track will earn the ICAgile Certified Professional in Agile Team Facilitation (ICP-ATF) and ICAgile Certified Professional in Agile Coaching (ICP-ACC) certifications. They will also be one step closer to earning the ICAgile Certified Expert in Agile Coaching (ICE-AC) designation.
To learn more about ICAgile's revised Agile Coaching track, visit http://icagile.com/Learning-Roadmap/Agile-Coaching. To find public ICAgile-accredited classes, visit www.ICAgile.com/find-a-class.
About ICAgile: Founded in 2010, International Consortium for Agile (ICAgile) is a leading global Agile accreditation and certification body that helps organizations design learning experiences that cultivate an agile mindset and enable sustainable organizational agility. ICAgile provides world-class learning tracks to guide organizations in the development of their curriculum. ICAgile's approach is not tied to any specific Agile methodology, thus giving people the flexibility to blend flavors in a way that make sense for their reality. Learn more at www.icagile.com.
Source: ICAgile
Share:
---
Categories: Business Technology
Tags: Accreditation, Agile, Agile Certifications, Agile Coaching, Agile Team Facilitation, Agility, ICAgile
---