Accenture | SolutionsIQ Joins With ICAgile on Innovative New Agile Leadership Course Offering
First course to offer ICAgile's new Agile Leadership certification will take place at the Business Agility 2018 Conference in New York City.
Press Release
-
updated: Feb 14, 2018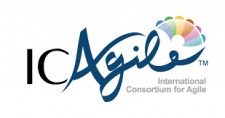 CHICAGO, February 14, 2018 (Newswire.com) - The International Consortium for Agile (ICAgile) is pleased to announce that member organization SolutionsIQ, now part of Accenture, is the first to accredit a course in alignment with the Agile Leadership curriculum of the consortium's Business Agility track. This comes on the heels of ICAgile announcing its innovative new Agile Leadership and Talent offerings last month to widespread industry interest. The inaugural class will be offered as part of the Business Agility Institute's Education Week leading up to the Business Agility 2018 Conference on March 12-13 (Convene at 117 West 46th Street, New York).
ICAgile created its Agile Leadership certification in collaboration with leading industry experts, including Accenture | SolutionsIQ managing director Charlie Rudd, to provide a roadmap that helps people build competence in the increasingly vital discipline of Agile Leadership. Rudd underscored the importance of Agile Leadership in today's business climate, noting that "what worked in the past is no longer a useful guide for the future. Leaders must re-shape their understanding of leadership and management to develop the capabilities that they now need to lead people and manage operations in a rapidly changing world."
As a leading provider of Agile transformation services for business and technology, Accenture | SolutionsIQ moved quickly to answer this growing need by developing an ICAgile-accredited Agile Leadership course. By meeting ICAgile's rigorous evaluation requirements, they are now accredited to deliver the Intentional Agile Leadership course, which will certify successful participants with the ICAgile Certified Professional - Agile Leadership (ICP-ALP) credential.
The course invites participants to explore nine domains that transform leadership and unlock competitive advantage. An excerpt from the course description reads:
"[Participants] will learn about what intentional leadership means in our complex world and begin building the skills and awareness to navigate this journey. With a focus on both immediate and long-term learning, participants will leave the workshop with new mental models, as well as practical tools to start applying right away. Participants will return to their organizations armed with a roadmap for continued future development and a strengthened ability to champion transformational change and lead in an Agile way."
"ICAgile is grateful to the international experts who have collaborated with us in the creation of our Business Agility and Agile Leadership offerings," said Shannon Ewan, ICAgile's managing director. "In light of this exciting news, we congratulate Accenture | SolutionsIQ for developing such a strong and profoundly important course that will undoubtedly have a positive impact on the development of true Agile leaders."
She added, "Be one of the first to receive the ICP-ALP by registering for Accenture's workshop at Business Agility Education Week."
To learn more about ICAgile's new Agile Leadership program and how you can become accredited, visit ICAgile.com. Additional public classes offered by our Member Organizations will be added to www.ICAgile.com/Find-a-Class as they are accredited. Stay tuned — additional Business Agility programs are in development and will soon be announced.
About ICAgile: Founded in 2010, International Consortium for Agile (ICAgile) is a leading global Agile accreditation and certification body that helps organizations design learning experiences that cultivate an agile mindset and enable sustainable organizational agility. ICAgile provides world-class learning tracks to guide organizations in the development of their curriculum. ICAgile's approach is not tied to any specific Agile methodology, thus giving people the flexibility to blend flavors in a way that make sense for their reality. Learn more at www.icagile.com
Source: ICAgile
Share:
---
Categories: Business to Business, Human Resources, Business
Tags: Accenture, Accreditation, Agile, Business, Business Agility, ICAgile, Leadership, Learning, Talent
---