Launching New Products Monthly
Common Fibers launches new products monthly, creating a new category of collector products
Press Release
-
updated: Jun 1, 2017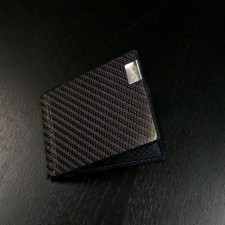 Seattle, WA, June 1, 2017 (Newswire.com) - Common Fibers launches a new product this month as it has every month so far this year. June's product boasts a vibrant purple design sure to catch the eye of Husky and Viking fans alike. Over the last six months, Common Fibers has launched new products on the first of each month, creating buzz and excitement. With the quick amount of interest in these limited editions, Common Fibers plans to continue launching new creative products monthly. 
For June, Common Fibers introduced their flashiest wallet yet: The PRP MAX. The PRP MAX is based on Common Fibers classic bi-fold design, but boasts accents of purple stitching and a reflective purple exterior. This limited edition holds eight cards, and has a large cash pocket. As with the previous months' releases, it is a limited run of 50 and the products run out quickly.
With monthly product launches, Common Fibers has accrued quite the fan base. With five-star reviews (such as "This is the BEST wallet I've owned hands down. I use it every day and still looks brand new. Very well made. Returning customer for sure! If you don't have one, buy it NOW!!! You won't regret it!" – CW), Common Fibers will continue to make new products with the help from its customers. The sneakerhead mentality is catching on in the accessories world, and Common Fibers aims to make a wallethead out of their customers.
Common Fibers designs and develops advanced consumer goods with the industry's only fully carbon fiber design. Utilizing their patented CF-Lex™ technology, Common Fibers plans to increase access to composites by expanding their use through the design of simple, functional and disruptive products. While becoming the leading name in the carbon fiber consumer goods space, Common Fibers utilizes its team's expertise to maintain integrity while keeping it simple, doing more with less, and focusing on the customer. 
Common Fibers June PRP MAX page - http://www.commonfibers.com/store/products/limited-editions/the-prp-max-purple-carbon-fiber
Common Fibers May BLU SLM page - http://www.commonfibers.com/store/limited-editions/the-blu-edition-blue-carbon-fiber
Common Fibers April Fools the Coolest Fanny page - http://www.commonfibers.com/store/products/limited-editions/the-coolest-fanny
Common Fibers April PIXEL Case page - http://www.commonfibers.com/store/products/limited-editions/the-pix-google-pixel-wallet-case
Source: Common Fibers
Share:
---
Categories: Design and Architecture, Consumer Goods, Production and Manufacturing, Hobbies and Crafts
Tags: Bi-Fold, Carbon, Carbon Fiber, CF-Lex, Composites, Limited Edition, Mens Wallet, Product Design, Sneakerhead, Wallet, Wallethead
---