First Women's Line of Carbon Fiber Purses
Press Release
•
updated: Jun 11, 2019
Common Fibers is launching a line of Carbon Fiber/Leather Purses so that ladies can also look good in black (carbon fiber). Common Fibers has collaborated with Sweet Butter Leather Goods to bring these to market.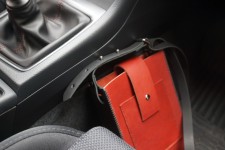 SEATTLE, June 11, 2019 (Newswire.com) - The CEO of Common Fibers is a huge car enthusiast and loves everything that goes fast, including her life as a female entrepreneur. Aside from making lots of carbon fiber car parts, Common Fibers has a lifestyle accessories line that has primarily served the male population. Until now.
Sweet Butter Leather Goods is a small local business that values quality, detail and craftsmanship. Each bag is 100% hand-stitched and made of locally sourced leather. The owner of Sweet Butter comes from a long line of creators -- houses, furniture, recipes and art -- and is also interested in repurposing materials for some of their products. Common Fibers is thrilled to collaborate with the up-and-coming business to bring new products to the market.
The new line will initially consist of a cross-body purse and a tote bag. Other products are in the works, including a carbon fiber and leather clutch and messenger bag.
The cross-body bag is great for a lot of reasons, especially when you don't need to carry a lot of things. You can carry your essentials without hefting around a giant purse. While it is smaller in size, it can be worn over your head and across your body, as the name suggests, allowing your hands to be free. An adjustable strap is helpful for finding the perfect fit.
The tote bag is large, with an open top and an open main compartment. It might also be called a shopper. It has all kinds of room and is very versatile. Long over-the-shoulder straps make it comfortable to carry. It's great for everyday convenience, no matter what the day brings.
Source: Common Fibers
Related Media
Tags
Additional Links