LA Artist Tyler Ramsey Utilizes Augmented Reality as His Latest Canvas
Press Release
•
Aug 15, 2016
Renowned artist, Tyler Ramsey, uses virtual reality as a medium for his signature, abstract style.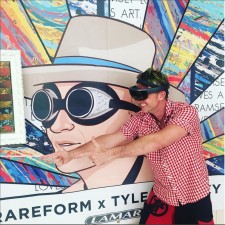 Los Angeles, California, August 15, 2016 (Newswire.com) - As artist-in-residence, Ramsey teams up with VR Scout at CTRL Collective to create abstract visual playgrounds
With the immediate success of virtual and augmented reality, artist Tyler Ramsey is using these new pieces of technology to produce artwork with his signature abstract style. His use of augmented reality serves as another medium to create expressive work. As an artist-in-residence at Venice's CTRL Collective, Ramsey has access to some of the finest technology and minds around.
Co-founder, Eric Chevalier and the team behind VR Scout, the leading digital destination celebrating advancements in virtual reality are teaming up with Ramsey. The creatives making waves in this medium along with CTRL Collective, a creative shop for groundbreaking individuals (that doubles up as Ramsey's studio space and gallery), unifies this collaboration as an innovative playground.
As technology continues to advance, fine artists are beginning to look towards this medium as a way to hone in on a unique skill and Ramsey is at the forefront of this journey, creating pieces that are an ode to time, adaptation and exploration. "I've always been an adventurer. I'm very excited to use this in my process and even more excited to see what I can produce," Ramsey explains.
Ramsey's past career as a casting director and television producer, his ongoing collaboration with TOMS shoes, an Oklahoma upbringing and the birth of his baby boy, River, all contribute to the notion that Ramsey's abstract expressionism is founded on experience and passion.
You can learn more about Tyler Ramsey by visiting his website and see more of his augmented reality adventures on his Instagram.
Artist Bio
Tyler Ramsey- Painter. Notable owners of Ramsey artwork include a US President, an Oscar winning director, a cowboy, a Jedi, a UN Secretary-General, a music mogul, a voice from The Simpsons, a pastor, a shoe company CEO, and a CSI Detective. He has had many commissioned works and impressive exhibitions including a four panel installation for Oral Roberts University, a mural for the city of Burbank, an exhibition at the Armand Hammer Gallery, James Gray Gallery, a three month showing at the Pacific Design Center Gallery, amongst many, many others.
Source: Tyler Ramsey
Related Media
Additional Links