Kiosk Market is Predicted to Exhibit a Moderate CAGR of 6.4%, Expected to Reach US $15.0 Billion by the End of 2025
The Kiosk Market Report assesses the key opportunities in the market and outlines the factors that are and will be driving the growth of the industry by summing up the previous growth patterns, the growth drivers and the current and future trends.
Press Release
-
updated: Nov 12, 2019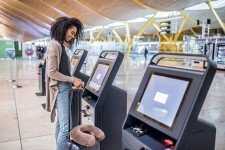 LOS ANGELES, November 12, 2019 (Newswire.com) - QYR Consulting has announced the addition of a new report to its machinery and equipment archive of market research studies titled, "Global Kiosk Market Report: Company Analysis, History and Future Overview, Global Sales Trends by 2025." According to the report, the global Kiosk market was above US $10 billion in 2018 and is anticipated to reach over US $15 billion by the end of 2025. The global Kiosk market is anticipated to exhibit a robust CAGR of 6.4% during the forecast period of six years, i.e. between 2019 and 2025. Industries are increasingly utilizing Kiosk systems to streamline processes and improve the efficiency of the operations. Kiosks have emerged as a time saving and effective solution to carry out activities in sectors including banking, healthcare, retail, transportation, and various others.
Segmental Analysis
Self-service kiosks to witness a surge in the demand
Based on the product, the Kiosk market is segregated into self-service kiosks, vending kiosks, and automated teller machines. Self-service kiosks have the ability to dispense a wide range of products, due to which their demand increasing among the end-user industries. The global Kiosk market has been bifurcated on the basis of application for hospitals, transport, banks, and others. Kiosk systems find key applications in hospitals, as these systems help to improve activities such as check-in, wayfinding, registration, information distribution, and many others. Banks are also extensively using Kiosks as efficient baking channels to send government aids and funds.
Request a sample of the research study here: https://www.qyrconsulting.com/request-sample/8045
Regional Coverage
North America to witness significant growth in the near future
Growing consumer preference for self-service across healthcare and finance industries is increasing the demand for self-service Kiosks in North America. Additionally, the presence of a well-established banking and financial service infrastructure in this region is positively influencing the regional market's growth. The implementation of government initiatives has increased the adoption of Kiosk systems in various sectors in Asia-Pacific.
Key Players
GRGBanking, Glory Limited, NCR Corporation, KING STAR, OKI, Hitachi, Nautilus, Kontron, IBM Corporation, RedyRef, SlabbKiosks, Diebold, Kiosk Information Systems, TCN, Honeywell, Meridian Kiosks, UNICUM, Wincor Nixdorf, Fujitsu Limited, and Eastman Koda are some of the key manufacturers operating in the global Kiosk market. It has been observed that manufacturers are taking up innovative pricing strategies in order to attract a larger customer base.
Market Dynamic
Rise in the demand among services industries to drive the market
The growing demand for Kiosk systems from services industries is a key factor driving the market. Moreover, a surge in the need among industries to enhance the customer experience is playing a key role in fueling the market's growth. Technological advancements and integration of more advanced software are also having a positive impact on market growth. Moreover, manufacturers are incorporating digital signage technologies into Kiosks, which are opening novel avenues for the market. 
Get the Complete Report within 24 hours: https://www.qyrconsulting.com/checkout/8045
Source: QYR Consulting
Share:
---
Categories: Heavy Machinery
Tags: Kiosk, Kiosk Industry Analysis, Kiosk Industry Growth, Kiosk Market, Kiosk Overview
---