Joshua's Heart Junior Advisory Board Grooms Tomorrow's Leaders in Their Annual Training & Workshop Sessions
Press Release
-
Sep 21, 2016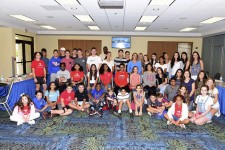 MIAMI, FL, September 21, 2016 (Newswire.com) - In extraordinary form and focus, the young people running the youth-led organization, Joshua's Heart Foundation (JHF), took to the classrooms and led their members in an unprecedented training forum designed to build tomorrow's leaders starting today.
To round out their end of summer and back to school activities, on the campus of FIU North, the Junior Advisory Board (JAB) took on the challenge of training members on the ABC's of running a well-organized business whether it is a for-profit or a non-profit entity. In a powerful training forum featuring speakers and breakout sessions with the ultimate goal of empowering their members while engaging them in the philanthropic goal of the foundation, which is "Stomping Out World Hunger" members were educated in:
·         The use of Social Media for Change – moderated by Matthew Beatty, Director of Communications, Miami Foundation
·         Being the Best You Can Be – moderated by Macarena Luz Bianchi, Author and Motivational Speaker
·         Interviewing and speaking techniques, giving your elevator speech – moderated by Lorena Estrada, WSVN (Fox news 7) Anchor
·         Finance which included project budgeting and expense reporting – moderated by Miriam Wong, CPA.
·         Journalism, Writing your own story – moderated by Caterina Balzano, Journalist, Miami Herald
The afternoon was rounded out by a presentation from a resident of the Miami Rescue Mission who spoke about their experience from homelessness to the present. Members had breakout sessions to discuss key foundation issues such as fund-raising opportunities for JHF and how they can continue to make a meaningful impact on hunger and homelessness. JHF's main mission is resolving the issues of hunger and poverty which will, in turn, lead to the uplifting of people leading them back to self-sufficiency.
Junior Advisory Board members recognized for outstanding achievement is service include:
·         Navya Baranwal – Gold Presidential Service Award for serving 1600 hours
·         Ceci Sosa – Gold Presidential Service Award for serving 651 hours
·         Ariana Bailey – Silver Presidential Service Award for serving 350 hours
 Adult participants were in awe of the experience, they were left feeling inspired and moved to share their experience by posting the following to their Instagram accounts:
"It was an honor to speak in front of so many intelligent and inspiring young people," Caterina Balzano.
"Most of us know @joshuasheart's incredible founder. Today, I met his advisory board and realized that he's one of over 50 middle and high school kids showing us what it really means to roll up your sleeves and improve this community. We had a great time talking social media as a tool for change...thanks for the inspiring afternoon," Matthew Beatty 
"Honored to speak at the Junior Advisory Board meeting today for @joshuasheart I love the impact these kids have on helping the needy!" Macarena Luz Bianchi
"Thank you for the love @joshuasheart We can help motivate & encourage, but you're the reason our future's looking so much brighter," Lorena Estrada
"It was an honor and a pleasure to speak and share my knowledge with the junior advisory board members of Joshua's Heart. May you continue to make a difference in our community. The future is bright with your leadership!" Miriam Wong, CPA.
Joshua's Heart Foundation continues to inspire young people to make a difference by leading the way through example. "Our members are the steam that powers our engine; we continue to look for new and impactful ways to solve hunger and homelessness. I am humbled by their enthusiasm and will continue to work to make a difference one person at a time," said Joshua Williams, President and Chief Change-maker JHF.
To learn more about how you can make a difference and be a part of the JHF mission visit www.joshuasheart.org  or email info@joshuasheart.org.
Source: Joshua's Heart Foundation
Share:
---
Categories: Non Profit, Community News, Philanthropy, Charitable Contributions, Fund Raising
Tags: End World Hunger, Food Inequality, Giving Back, Hunger, JAB, JHF, Joshua Williams, Joshua's Heart Foundation, Junior Advisory Board, Philanthropy, Stomp Out World Hunger, Youth Service
---