14 Yr Old Teen Philanthropist Recognizes Humanitarians at Joshua's Heart Superheroes Award Ceremony
With his team on hand, Teen Philanthropist Joshua Williams celebrated 10 years of service (2005-2015) in grand style when he honored community leaders for their service to humanity both here and overseas.
Press Release
-
updated: May 10, 2016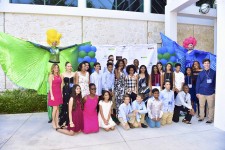 Miami, FL, May 6, 2016 (Newswire.com) - ​Joshua's Heart Foundation (JHF) closes out the month of Global Youth Service Day with a bang. It's been 10 giving years for Joshua Williams and his organization and they celebrated 10 years of service to underserved communities throughout South Florida, Jamaica, Africa and India at Ransom Everglades School in Coconut Grove, on April 9th . Additionally they hosted a food distribution in Fort Lauderdale's Joseph Carter Park for Global Youth Service Day. Among those celebrated and honored were Unilever, members of the media from all three local media affiliates, NBC6, WPLG-Local 10 and CBS4-Neighbors 4 Neighbors as well as Cox Media Group's local urban radio station, HOT105fm. Other honorees included their corporate partners who have shown overwhelming support of the organization's mission to stomp out world hunger and those that make the wheels turn at JHF, the families and volunteers that work tirelessly to make a difference in their world every day.
 "It is humbling to see the collection of people who serve tirelessly to make a difference in our local communities gathered to celebrate each other", said Joshua Williams, the 14 year old Founder, President and Chief Change-maker for JHF. "When those that serve celebrate others of the same ilk, we can work collectively to make major changes throughout the world in which we live", he added.  Finally, said Williams, "We could not have had the memorable evening without the tireless work of JAB member Ceci Sosa and her mother Cecelia."
"We wanted to ensure our partners, sponsors and supporters, from the beginning until now know their work and efforts have been appreciated", said Claudia McLean, Joshua's mother. Special mention was made to Unilever, Feed the Children, Whole Foods Market, Sodexo, YSA, Foundation for a Better Life, AT&T Pioneers, Holland & Knight, Verdeja∙De Armas∙Trujillo, Ransom Everglades and Pinecrest Schools, The Miami Foundation and The City of Sunny Isles Beach for their undying support over the years. The foundation welcomed Publix Supermarkets as a new sponsor for 2016 and look forward to a long and fulfilling relationship with them. All who served were recognized particularly the media's Lynne Cameron, Mayte Padron, Neki Mohan, Todd Tongen and Rodney Baltimore. The evening would not be complete without honoring the families and individuals that make the most impact on the movement, particularly, Macarena Luz Bianchi, the Sosa, Wanless, Baranwal, Zapata, Francuz, Vaughn and Castro families. Special mention was done for DJ Irie and the Irie Foundation, who despite the fact that he was out of town, sent a special video of thanks and equal recognition for Joshua for setting the bar that everyone has to live up to.

"Joshua and the Foundation have been a tremendous partner in our efforts to end child hunger, and we are thrilled to be honored with a Superheroes of Service Award this year," said Greg Will, Unilever Customer Team Lead for Publix. "Joshua is truly living the Unilever brightFuture vision that we strive for every day, and we look forward to seeing what he'll do next to help create a brighter future for everyone."
Williams and his foundation have managed to make a major impact on hunger in our society. Through the loyal support of his family, friends, partners, sponsors and supporters, they have distributed 1.2 million pounds of food, raised over $500,000 and served over 60,000 families and their work is not yet done.  Through their involvement with the foundation these young volunteers (over 10,000 in number) have all learned the importance of giving back. Several have started their own projects while serving as a JHF volunteer to help alleviate the problems that face society in direct relation to poverty. Some of these projects include, Anthony's Blanket Project, I Love Art, Suppli Cycle Repurposing, Tied Accessories, Page by Page book drive, KARE Project and Nourishing Our Mankind (NOM). Look out for major things to come out of new offshoots of JHF with JFH-Boca Raton, JHF-Connecticut and coming soon JHF-Ohio, JHF-Chicago, JHF-NY and JHF-Jupiter, FL.; all chapters inspired by volunteers to make things happen as a result of their involvement with Joshua's Heart Foundation.

Now 14, and fully aware of his life's purpose, Williams is forward thinking and working on designing a model that will teach people how to lift themselves out of poverty. He is focused on imparting the necessary skill sets to those in need that are necessary to make a lasting change in order to help break the cycle of poverty and the devastation of its wake. There are 1 in 7 kids impacted globally by hunger, JHF recognizes the impact this has on society, Joshua and his foundation are taking steps to change these stats daily. Life changing action came in the service of 250 families for the nationwide day of service on April 16th in Ft. Lauderdale. This effort was championed by young Junior Advisory Board member and founder of the Boca Raton Chapter, Colin Wanless, his family and a host of JHF's volunteers

The event was hosted by WSVN's Weekend Anchor, Lorena Estrada and pre-event activities included a garden reception with carnival stilt walkers, a candy and dessert walk and an exquisite tasting village. South Florida had a great evening of celebrating philanthropy and it was all led by a teen philanthropist with a great heart and even greater vision for solving food insecurity and eliminating homelessness; it all begins with caring for your fellow man. To learn more about Joshua's Heart or to make a donation please visit www.joshuasheart.org.
Source: Joshua's Heart Foundation
Share:
---
Categories: Non Profit, National News, Lifestyles, Fund Raising
Tags: End World Hunger, Food Inequality, Giving Back, Hunger, JHF, Joshua Williams, Joshua's Heart Foundation, Millennium Goals, Stomp Out World Hunger, Superheroes of Change, Superheroes of Service, Teen Philanthropist
---