'I've Got This Brother' Explores the Power of Love in the Face of Family Secrets
Press Release
-
updated: Feb 13, 2020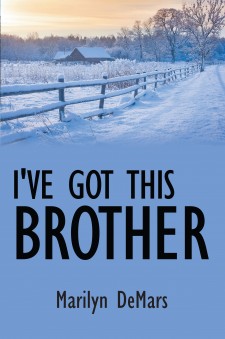 CRYSTAL, Minn., February 13, 2020 (Newswire.com) - Trust, familial relationships and the power of love are front and center in I've Got this Brother, the new novel from author Marilyn DeMars, published by Global Summit House. The 328-page story opens with a marriage proposal gone wrong, as a long-held secret threatens the promise of a new life together for Tracy and her boyfriend, Mark.
I've Got This Brother showcases DeMars's ability to develop engaging plots, relatable characters and witty banter that draw readers into her tales, rife with twists and turns and emotional encounters. As a writer with six other works of fiction to her credit, this book is a testament to her knack for scrutinizing the complex psychology of individuals and their relationships and endearing her protagonists to readers - flaws and all. And with her descriptive prose, she readily transports readers to the various scenes in the story in such a way that one can almost hear the sounds and smell the smells at the diverse locations and clearly picture the colorful characters.   
In I've Got This Brother, Mark becomes entangled in the complexities of Tracy's complex relationship with her agoraphobic brother to whom she is extraordinarily devoted. When Mark steps in to help, challenges, conflicts and intrigue come into play.
​DeMars indicated that she found people fascinating, and she truly enjoyed delving deep into the individual psyches of her characters, how their experiences affect their relationships, and how they navigate life and view situations. She finds there is rarely such a thing as a simple truth in this life and there is instead always some gray area to explore - which she does. She says that, as humans, we must either rise to the challenges in our lives and embrace change or play it safe and live limited lives. This book shows what can happen in either scenario.
​DeMars is also the author of The Way Back, The Way Forward, Sunny, Sidetrack and The Mistake. I've Got This Brother is published by Global Summit House and available in hardcover, paperback or for Kindle on Amazon.
Source: Global Summit House
Share:
---
Categories: Books
Tags: Books, Families, Fiction, Novel, Relationships
---