It's Back to a Clean School Year With JAWS® Refillable Cleaners
Press Release
•
updated: Aug 19, 2021
JAWS® Eats Dirt, Grime and Germs this School Year while Reducing Single Use Spray Bottles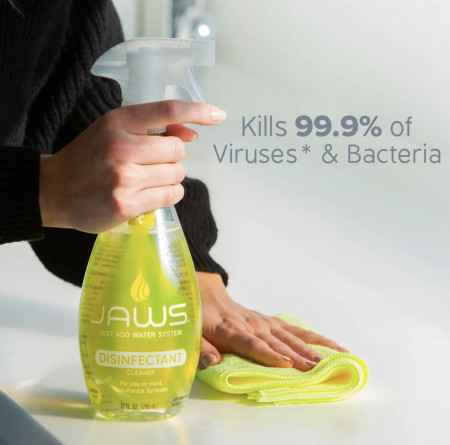 TOLEDO, Ohio, August 19, 2021 (Newswire.com) - It's Back to School during another challenging year with uncertain schedules. No matter when the first school bell rings, JAWS® (Just Add Water System) is ready. JAWS® is the innovative cleaning solution aimed at reducing single-use plastic bottles while keeping your home environment clean.
(JAWS®) is simple, one reusable spray bottle and a cartridge of concentrated cleaner mixed with water creates an effective cleaning product for every surface in your home. Save storage space by storing only small, concentrated refill cartridges instead of full bottles of backup cleaning spray bottles.
Whether this school year leads to an empty house, or not, JAWS® is hungry for dirt, grime, messes, and germs. The JAWS® cleaning kits include specialized eco-friendly, non-toxic* specialized cleaners for every cleaning job in the house. From floors to doors, kitchens to bathrooms, the JAWS® proven formulas eats messes and leaves surfaces sparkling clean.
JAWS® is also perfect for the more than 4 million students who will be moving from home to live near or on college and university campuses across the USA. The JAWS® Ultimate Cleaning Kit is perfect for apartments and dorm rooms as well as the mess left behind in homes across America.
The JAWS® Ultimate Cleaning Kit is the ideal Back to School solution. Send college students back to school with the cleaning power they need. JAWS® Ultimate Cleaning Kit which has 6 JAWS® refillable cleaning products and color-coded microfiber towels for cleaning and scrubbing.
The specially formulated JAWS® product line includes Glass Cleaner, Daily Shower Cleaner, Kitchen Degreaser, Floor Cleaner, Granite Cleaner, Multi-Purpose Cleaner, and Foaming Bathroom Cleaner. Additionally, JAWS® offers the EPA registered JAWS® Disinfectant Cleaner. The JAWS® Disinfectant Cleaner is not considered a non-toxic cleaner, it is made especially powerful to be a one-step disinfectant to kill 99.9% of Viruses* and Bacteria including the SARS associated coronavirus.
About JAWS Cleaners: JAWS International, Ltd., a technology company committed to protecting the environment developed JAWS® (Just Add Water™ System) - a patented, innovative non-toxic cleaning system designed to reduce the environmental impact of packaging in conventional spray-cleaning products, conserving the resources required to produce and ship them, while trimming end-use plastic disposal. A Founding Principal of the Company is Stop Shipping Water. It's the Right Thing to Do.
Address: 3610 N. Holland-Sylvania Road
City: Toledo
State: Ohio
Zip code: 43615
Telephone number: 866-664-JAWS (5297)
Email: info@jawscleans.com
Media: sgartland@iacircle.com
Source: JAWS International, Ltd.