Reveald Launches Endpoint Defense Management 360°, Powered by CrowdStrike Falcon Complete
Press Release
•
Sep 12, 2023
Reveald and CrowdStrike Unveil an Enhanced Managed Detection and Response Solution, Accelerating the Transition From Reactive to Predictive Cybersecurity for Enterprises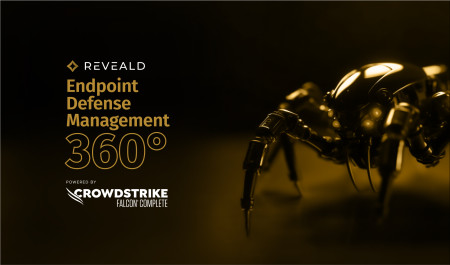 NEW YORK, September 12, 2023 (Newswire.com) - -- Reveald today announced a groundbreaking managed detection and response (MDR) service: Endpoint Defense Management 360° (EDM360°), powered by CrowdStrike Falcon® Complete. This comprehensive subscription service draws on the prowess of Reveald's Cyber Fusion Center to deliver proactive management, configuration, monitoring, and hands-on response to cyber threats, in close collaboration with the elite CrowdStrike Falcon® Complete team. Built on the powerful Epiphany intelligence platform, EDM360° empowers organizations with mature endpoint protection, and a clear path to predictive defense.
As a strategic launch partner for Falcon Complete for Solution Providers, Reveald delivers turnkey planning, onboarding, and ongoing optimization. Reveald harnesses the unmatched expertise of the Falcon Complete and Falcon OverWatch teams for 24/7 threat hunting, triage, investigation, and hands-on remediation.
EDM360° closes the gap many organizations face in defending against modern cyber threats. In a time when the attack surface grows more massive and complex, many organizations find it challenging to hire and retain the expertise needed to mount around-the-clock defense. Security service providers can help fill the need, but their focus on managing alerts and SLAs ensures that security teams remain stuck in a highly reactive security posture.
Key benefits of Reveald's new offering include:
Reduced costs — Reveald empowers organizations to consolidate tools and vendors with full-spectrum managed detection and response across the Falcon platform.
Minimize attack surface — Reveald's white-glove service manages deployment, configuration, tuning, optimization, and support of the CrowdStrike Falcon Platform, continuously shrinking the attack surface available to adversaries.
Always-on expertise — EDM360° is backed by the Falcon Complete team, recognized by industry analysts as one of the industry's most effective teams of security analysts and threat hunters.
Built on the Epiphany intelligence platform, Reveald's solutions empower security teams with the technology, expertise, and processes they need to quickly establish effective security operations, and to build on this foundation to achieve mature, predictive cyber defense.
"In an era where cyber threats evolve at lightning speed, our collaboration with CrowdStrike gives Reveald's customers a powerful win-win solution," commented Brett Kelsey, President and Chief Operating Officer of Reveald. "CrowdStrike's ability to hunt down and eliminate threats in minutes ensures Reveald's experts can keep our eyes on the horizon, always looking for the next potential threat and ensuring our customers' defenses are ready for the challenge."
"Success in the battle against modern adversaries requires focusing on speed and efficacy, not simply reacting to alerts as they come," said Tom Etheridge, Chief Global Professional Services Officer at CrowdStrike. "Reveald's service offering, powered by CrowdStrike Falcon Complete, closes the gap that many organizations face in security operations, starting with strong planning, deployment, and configuration of the Falcon platform, combined with continuous tuning and optimization. We're proud to partner with the Reveald team in our mission to stop breaches."
About Reveald
Reveald guides organizations along their journey from reactive to proactive defense. Reveald's AI-driven Epiphany Intelligence Platform™ empowers security teams to break free from existing reactive processes by leveraging Continuous Threat Exposure Management (CTEM), supported by the expertise to guide them on every step of the journey. Known for its innovative and proactive approach to cyber threats, the company is powered by a client-first approach, prioritizing risk mitigation and operational efficiency. To learn more, visit the website.
Source: Reveald
Tags