JAWS Empowers Users to Stop Shipping Water
Press Release
•
Feb 25, 2023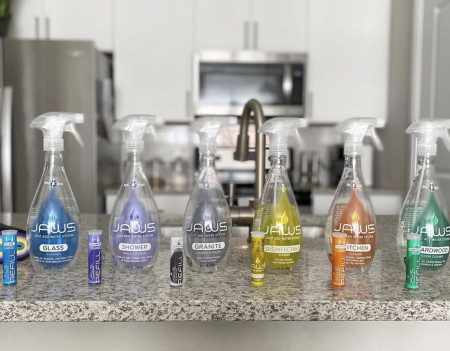 TOLEDO, Ohio, February 25, 2023 (Newswire.com) - Buying traditional cleaners and cleaning supplies might not seem like a hassle, until one sees the difference JAWS®, (Just Add Water System), makes to every household that uses its products. As e-commerce sales continue to skyrocket, with more and more households buying their cleaning products online, JAWS is the perfect solution. Using JAWS spray bottles and refill pods is the commonsense way to stop shipping water.
JAWS is an eco-friendly system of high-performance cleaners, designed for cleaning and disinfecting a variety of household surfaces. The JAWS® system includes reusable spray bottles with super-concentrated refill pods. When mixed with water, the pods create cleaning products that are effective yet clean without streaking or leaving residue. When a spray bottle is empty, simply refill it with water, reload it with another pod, and reuse it.
JAWS bottles are shipped empty, along with JAWS refill pods. Simply add water to the bottle, insert the JAWS pod, and twist on the sprayer - and voila, ready to start cleaning.
The best part is, JAWS products are lightweight and travel easily through the mail, avoiding the hassle of broken and leaking bottles, frozen cleaning products, and just plain bulky or heavy packaging that no one wants to lug around. Even better, one only needs to buy a JAWS bottle once and only needs to purchase refill pods, as needed.
The bottles and pods can be purchased a la carte, for specific cleaning needs, and do not require a subscription (though subscription options are available). Orders ship within 24 hours, and with orders over $35, get free shipping within the contiguous United States.
Not only does JAWS help preserve the environment by reducing single-use plastic bottles, but JAWS also offers EPA Safer Choice-certified formulas. This means that JAWS Safer Choice-certified products are safer for the entire family, pets, and the environment
JAWS International Ltd is an Ohio company - Any concerns or questions, JAWS' customer service team is available from 8:00 am - 4:30 PM EST Monday - Friday.
You can buy each type of cleaner individually or as a full set from jawscleans.com or on Amazon.
Use the JAWS, Just Add Water System for all household cleaning needs for an eco-friendly, flexible cleaning system. With JAWS, start cleaning the house and stop shipping water.
Source: JAWS®