Intellitronix Introduces New Camaro LED Direct Replacement Dash Products
Press Release
•
Aug 16, 2016
Automotive electronics manufacturer, Intellitronix recently added to their ever-growing line of LED Direct Replacement Dashes. This time, they've added new Camaro models, opening the door for Camaro enthusiasts to customize their classic cars with a modern, brightly lit LED dash display.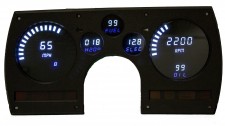 Eastlake, Ohio, August 16, 2016 (Newswire.com) - Intellitronix has always had products for cool, classic cars, like the Chevy Corvette and Firebird. Recently, they've been working hard to add even more makes and models to both their direct replacement dash products and their individual gauges. Recently, they've added to their line of replacement dash sets for the Camaro.
Intellitronix now offers two LED Direct Replacement Dash products for the Chevy Camaro; One is for Camaro years 1982-1990 and the other is for years 1991-1992. Others models are currently being worked on and will be available in the near future. All replacement dash kits, including those for the Camaro, are available with red, blue, white, or green displays. As Intellitronix grows, they hope to not only increase their existing product lines, but to also create whole new product lines that will cater to different types of vehicles and different interests.
If you have a Camaro that needs a little something extra, you might want to consider checking out one of the Camaro LED Digital Dash products from Intellitronix. You can view and can even purchase them directly from Intellitronix via their website! Stay on the lookout for more updates on Intellitronix and their increasing line of automotive accessories and electronics.
Source: Intellitronix