In Mexico, Bright Hope for Drug-Free Lives Arrives With the Opening of Narconon Puebla
Press Release
•
updated: Sep 20, 2018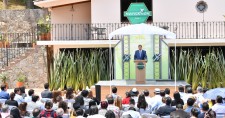 PUEBLA, Mexico, September 20, 2018 (Newswire.com) - With great pride, Narconon International announces the grand opening of a new drug rehabilitation center near Huachinango in Puebla, Mexico. In a country devastated by drug-related violence, including more than 150,000 homicides over the last 12 years, this new Narconon is a promise of health and hope for addicts and their families.
Heading up the effort to create this new center has been Diego Corona Cremean, architect and former Minister for Infrastructure in the State of Puebla and CEO of the Puebla Committee for the Construction of Educational Spaces. After recovering from his own drug addiction years ago, he wanted to help others through their struggles. When he discovered the Narconon technology, he knew he had found his solution and he began the work of building this new rehab center.
In this work, there is no greater satisfaction than to see the progress of our students day by day as they overcome their addictions.

Zuveldia Lizarraga, Executive Director of Narconon Latin America
The grand opening began with a musical welcome by the celebrated singer and former federal senator Francisco Xavier Berganza, who donated the property on which the center is built.
Corona Cremean then spoke of the urgent need for effective rehabilitation and noted the success of the Narconon program in helping its graduates achieve lasting sobriety.
He then brought to the stage Zuveldia Lizarraga, executive director of Narconon Latin America. She described her 13-year history of helping the addicted find their way out of misery and danger through the Narconon program. "In this work, there is no greater satisfaction than to see the progress of our students day by day as they overcome their addictions," she said.
Carlos Martínez Amador, president of the Puebla House of Representatives, spoke of his deep family roots in Huauchinango. He acknowledged Narconon and the team that built this center, noting the importance of having such a successful rehab program in the region. He described this new Narconon center as providing both help and hope for Puebla citizens and promised his support to help Narconon build more rehabilitation centers.
Former Olympic gymnast Brenda Magana thanked Narconon for educating people on the problems caused by drugs and for offering a real solution to this life-threatening problem.
María del Rosario Espinoza, Olympic gold medalist in Taekwondo, is using her fame as an athlete to improve social conditions. Now, working with Narconon, she envisions many people freeing themselves from the effects of drugs.
Jose Antonio Martínez Garcia, Undersecretary of Health for Puebla spoke about the dramatic increase in drug use among Puebla residents and how it was vital to have an effective solution like this new Narconon in the state.
Jaime Oropeza, Secretary of Labor and Economic Development for Puebla said this new Narconon center will create a safer environment and provide jobs for people in the region.
With that, Narconon Puebla was officially opened. More than 400 guests toured the center, its dedicated withdrawal unit, sauna facility for detox, and classrooms for learning life skills that promote drug-free living.
About Narconon Puebla
For a person in recovery, a calming, safe environment is a must, so this center is situated in the mountains of Sierra Norte de Puebla. In this lush wooded area, far from the chaos of the city, each person can relax and focus on recovery and creating a new drug-free life. Here, a person can reclaim their life, their family relationships and self-respect.
Those arriving at Narconon are referred to as "students" not "addicts" or "clients" because here, the emphasis is on learning how to create a new, lasting and drug-free life.
Classrooms, kitchen, dining room and administrative offices are located in the main lodge. Thirty students at a time can be accommodated in the new cabanas on the 14-acre facility. Each cabana has a living room, private bathroom and patio. Students have access to a gym, swimming pool, ping pong table and lounge area with television.
Surrounding the new center are vistas of mountain peaks, ravines, rivers, lakes, woodland foliage and wildlife—the perfect environment for family visits and relaxing at the end of the day.
Since its inception in 1966, the Narconon network has expanded to dozens of centers around the world, helping some 40,000 achieve drug-free lives.
The Narconon program begins with a drug-free, nonmedical withdrawal process designed to assist the individual in shedding a dependence on drugs as rapidly and comfortably as possible. It is followed by a unique method of detoxification, specifically geared to help drug users eliminate from the body the drug and toxic residues that drive cravings. The final component of the program is a series of Life Skills Courses that furnish students the tools needed to remain stably drug-free.
Narconon Puebla is the fifth Narconon rehab center in Mexico, joining those in Estado de Mexico, Guanajuato, Sonora and Baja California.
For more information, call 1-800-775-8750 or visit www.narconon.org or narcononpuebla.org.
Source: Narconon Puebla
Related Media