H.E. Ahmed Bin Bishr on Falconry and Preserving Tradition for Nation-Building
Preserving the tradition of falconry in the nation of United Arab Emirates
Press Release
-
updated: Aug 28, 2017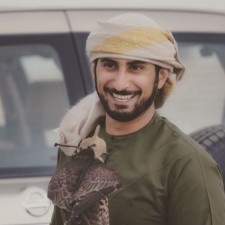 Dubai, United Arab Emirates, August 28, 2017 (Newswire.com) - The changing winds in the UAE do not only signify the near-end of a harsh summer, but also the beginning of one of the most exciting times for regal sports enthusiasts — falconry season. His Excellency Ahmed bin Bishr is at the forefront of the action, making thorough preparations to conquer the deserts once more.
H.E. Ahmed, as a purveyor of cultural preservation, has been fascinated and dedicated to the sport from a very young age. "Falconry is a celebration of the country's heritage, a reminder of the harsh conditions that led early settlers to become master trainers of these birds of prey in order to acquire food in the desert", Ahmed says.
During training season, he drives to the desert once or twice a day with his trusted team to train and condition the various raptors that he owns. The most optimal time for training is early in the morning around 5 or 6AM or at sundown, sometime around 6PM. It can take months to fully condition the birds. 
The most valuable lessons he has learned from the sport is patience and resilience. "Falconry is not just about having a solid relationship with the birds. It also allows me to form strong bonds with my team and with other falconers", Ahmed shares. 
While the country has made leaps and bounds into becoming a superpower in the modern world, he maintains that the only way for it to develop sustainably is if it keeps close at heart the things and traditions that have made the country and its people what it and they are today. Ahmed believes that it is imperative to promote and preserve the tradition of falconry for this generation and the next as it builds both an appreciation of the country's history and builds character among people.
Source: H.E. Ahmed Bin Bishr
Share:
---
Categories: Photography, Private Sector, Culture
Tags: Ahmed Bin Bishr, be unique group dubai, dubai, falconry in dubai, united arab emirates
---