Global Kidney Dialysis Equipment Market Expected to Reach Around US $15.3 Billion by 2025 Due to Improving Diagnostics
Press Release
•
updated: Dec 10, 2019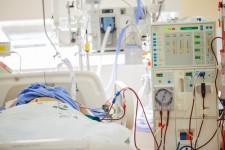 LOS ANGELES, December 10, 2019 (Newswire.com) - QY Research recently published a report titled, "Global (United States, European Union and China) Kidney Dialysis Equipment Market Research Report 2019-2025". The global kidney dialysis equipment market size was estimated at US $10.3 billion in 2018 and is expected to reach around US $15.3 billion by 2025 and to register a CAGR of above 5% during 2019 to 2025.
Lower Cost of Treatment to Boost Global Market
The global kidney dialysis equipment market is expected to show robust growth due to the improved rate of diagnostics and better quality of healthcare infrastructure. Significant investments by private organizations in healthcare have led to mushrooming dialysis centers, boosting better management of kidney-related diseases.
Most kidney diseases can be a result of overusing painkillers, eating processed food, dehydration, inadequate sleep, overconsumption of meat, high-sugar food items, and alcohol amongst other existing complications. According to many medical and healthcare institutions, the number of kidney disease-related cases is also expected to grow due to a drastic rise in the number of diabetics. Furthermore, improving financial assistance for a growing number of patients suffering from kidney diseases has also aided market growth. In addition to the above, low-cost treatment and accurate dialysis apparatuses are also expected to contribute to market growth in the forecast period.
Request a Sample Copy of this Report at https://www.qyresearch.com/sample-form/form/1330120/global-united-states-european-union-and-china-kidney-dialysis-equipment-market
Peritoneal Dialysis Equipment Segment to Fuel Market
The peritoneal dialysis (PD) equipment segment is projected to grow significantly in the global kidney dialysis equipment market, owing to its various advantages such as reduced treatment cost, higher patient comfort, and operational functionality.
Asia-Pacific to Dominate Global Market Growth
Asia-Pacific is expected to hold a significant share in the market, owing to increasing investments from governments and improving the quality of healthcare in the region.
Manufacturers to Focus on Accessibility of Equipment in Remote Areas
The latest healthcare unit by Fresenius Medical Care is a 4008A dialysis machine that aims to provide emergency services. This product is aimed at improving accessibility to life-sustaining dialysis treatment for patients who have end-stage renal disease in emerging economies of the Asia-Pacific. The machine has a high level of safety and handling standards, which includes cleaning functions and battery back-up. It is easy to handle, making it ideal for demanding infrastructure and remote locations. The number of patients diagnosed with this disease will increase as compared to the number of patients who have access to treatment. This initiative is aimed at bridging the gap between the two.
The major manufacturers in the report include Medionics, Fresenius, Toray, SWS Hemodialysis Care, Baxter, Medtronic (Bellco), Nipro, B. Braun, Newsol Technologies, Nikkiso, NxStage Medical, Terumo, JMS, Asahi Kasei, WEGO, and others.
Get a Complete Report in your Inbox within 24 hours (USD 3,280): https://www.qyresearch.com/settlement/pre/54aa174c78474c5f993eb11c1d4fee52,0,1,Global-United-States-European-Union-and-China-Kidney-Dialysis-Equipment-Market-Research-Report
Source: QY Research, Inc.
Tags