Global Hacksaw Blades Market to Reach US$78.31 Mn by 2025 Construction Industry Expands
Press Release
-
updated: Dec 24, 2019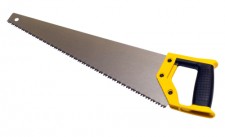 LOS ANGELES, December 24, 2019 (Newswire.com) - QY Research recently published a report titled, "Global Hacksaw Blades Market Insights, Forecast to 2025". According to the report, in 2018, the global hacksaw blades market size was valued around US$64.22 mn and it is expected to reach US$78.31 mn by 2025, rising at CAGR of 2.87% between 2019 and 2025.
Get PDF sample copy of this report: https://www.qyresearch.com/sample-form/form/638172/global-hacksaw-blades-market
Increased Production Capacity, Affordability, and Low-cost to Propel Market  
Hacksaws are generally used for complex cutting tasks in small and medium scale industries. Factors focused on improving affordability and lowering costs are fueling the demand for hacksaw blades. Additionally, the demand for hacksaw blades is also rising with increasing railroad projects, in-building construction activities, shipbuilding, furniture manufacturing, and others. The growing demand for wood has encouraged sawmills to increase their production capacity which has become a significant factor driving the hacksaw blades market growth.
Furthermore, the thriving construction industry is also creating growth opportunities for good-quality furniture. In the evolving market, manufacturers are incorporating electric hacksaw blades. These blades can overcome the limitations of traditional hacksaws such as teeth breaking and quick blunting. All of these factors are expected to amplify the growth of the global hacksaw blades market.
Bi-metal Hacksaw Blade to Register Drastic Growth  
Bi-metal hacksaw blades are expected to hold a large part of the market as alloyed steel and super-alloyed high-speed steel offer hardened teeth and flexible body. It provides several benefits over other hacksaw types including high-cutting performance and single-sided toothing, making it ideal for tough cutting such as hardly divisible steel, non-ferrous metals, and plastics.
Regional Markets to Help Expansion of Global Hacksaw Blades Market
North America and Europe will heavily contribute to the global hacksaw blade market due to growth in construction activities. Other regional markets included in the report are Asia Pacific, the Middle East and Africa, South and Central America, Southeast Asia, and others.
Manufacturers to Focus on Store and Online segment
Last year, STANLEY announced that it has partnered with The Home Depot to become its exclusive home improvement retailer for hand tools and storage product. They will begin operations from 2019 in both stores and the online segment. The Home Depot will also garner exclusivity across the STANLEY FATMAX product line, the STANLEY brand, and STANLEY FATMAX, which is one of the largest exclusive partnerships in the tools and storage industry.
The manufacturers covered in the report include Stanley, TOYA, Starrett, SATA, Jinan Ganghua, Bosi, Lenox, Bahco, PILANA, Hailian Saw, LAOA Tools, Shandong Liangshan Julong, Milwaukee Tool, Irwin Tools, The Great Wall, and others.
Get Complete Report in your Inbox within 24 hours (USD 3,900): https://www.qyresearch.com/settlement/pre/d247b5c58ffd27ef764ef2561fa74cc7,0,1,Global-Hacksaw-Blades-Market-Insights-Forecast-to
Source: QY Research, Inc.
Share:
---
Categories: Construction
Tags: Hacksaw Blades Market, Hacksaw Blades Market Forecast, Hacksaw Blades Market Size, Hacksaw Blades Market Trend
---