Global Building Applied Photovoltaics (BAPV) Market to Reach US $537.01 Million by 2025
Press Release
-
updated: Nov 29, 2019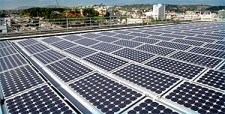 LOS ANGELES, November 29, 2019 (Newswire.com) - A new research report recently published by QY Research, titled "Global Building Applied Photovoltaics (BAPV) Market Professional Survey Report 2019", states that the global Building Applied Photovoltaics market was valued at US $519.30 million in 2018, and is expected to reach US $537.01 million by the end of 2025, exhibiting a sluggish CAGR of 0.70% from 2019 to 2025.   
Building Applied Photovoltaics consists of solar PV panels, which can be attached to building structures' rooftops to generate electrical energy. BAPVs require low maintenance and these solar systems are extensively used for generating clean energy. Heavy machinery can be operated through power generated from BAPVs, leading to increased usage in industrial and commercial sectors.
Get a PDF sample copy of this report: https://www.qyresearch.com/sample-form/form/1313769/global-building-applied-photovoltaics-bapv-market
Lack of Awareness Regarding Benefits of BAPV is Restraining the Growth of the Market
A major factor obstructing the growth of the worldwide Building Applied Photovoltaics market is the lack of awareness of consumers regarding the benefits of Building Applied Photovoltaics, such as the adoption of renewable sources of energy for power generation, which also reduces the usage of fossil fuel. Another factor that is hampering the growth of the market is the high cost of capital investment associated with BAPV. Difficulty in installing Building Applied Photovoltaic in old buildings and houses is another reason responsible for obstructing the growth of the market.
Increasing Usage of BAPV in Residential Sector is Expected to Fuel Growth of the Rooftop Segment
Based on product type, the Building Applied Photovoltaics market is bifurcated into DSC, OPV, and others. On the other hand, based on application, the Building Applied Photovoltaics market is segregated into rooftop and facades. In the rooftop segment, BAPVs are installed in residential buildings, apartments, and houses. The new Zero Energy Building, which means a building with zero carbon emissions and zero net energy consumption, a concept that's gaining popularity in developed countries, is expected to positively influence the growth of the market.
North America to Capture a Remarkable Share of BAVP Market
North America is expected to hold a significant share of the market, in terms of revenue, due to active government support for the adoption of renewable energy for generating electricity by offering subsidies. The European region is also likely to grab a substantial share of the market due to increasing applications in the commercial and residential sectors. The region has also seen increasing government support for solar energy systems, which is expected to propel the growth of the market.
Top companies Are Inclined to Launch New Products to Increase Profit Margin
Some of the top companies operating in the worldwide Building Applied Photovoltaics market are First Solar, OPVIUS, Sharp Solar, Suntech Holding, Centrosolar, Soltechture, GIE, and DSD Energy. Key players are focusing on innovation and launching new products.
Get a Complete Report in your Inbox within 24 hours (USD $3,500): https://www.qyresearch.com/settlement/pre/2679b906d8efafda694a9800c0980c33,0,1,Global-Building-Applied-Photovoltaics-BAPV-Market-Professional-Survey-Report
Source: QY Research, Inc.
Share:
---
Categories: Energy
Tags: Building Applied Photovoltaic, Building Applied Photovoltaic Industry Size, Building Applied Photovoltaic Market
---