Get My Auto Reveals Key SEO Ranking Factors for Dealership Websites
In a new statement to the press, Get My Auto advises used car dealerships on what it takes for their websites to achieve high Google visibility.
Press Release
-
updated: Mar 13, 2018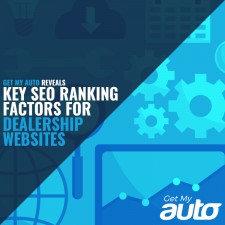 IRVINE, Calif., March 13, 2018 (Newswire.com) - Every used car dealership wants to achieve high Google visibility but this can be easier said than done. Search engine placement is determined by a complex set of ranking factors and to the novice, these algorithms can seem impenetrable. In a new statement to the press, Get My Auto advises used car dealers on the five most important search ranking factors for them to consider.
"If you want your dealership website to rank well, the first component is content," says Get My Auto. "Google wants to provide search engine users with content that addresses all their questions and concerns. Buyer-centered, value-adding content is the cornerstone of your dealership's SEO efforts."
A second factor is user experience. "When website developers talk about user experience, they're talking about the ease with which users can access a page and find the needed information," says Get My Auto. "This encompasses both navigation and layout clarity."
It is also important for websites to load quickly. Most search engine users are unwilling to wait more than two or three seconds for a site to load, and Get My Auto encourages dealers to check their sites on a variety of browsers and devices to confirm page speed.
Still another important ranking factor is mobile-friendliness. "These days, a majority of online searches take place on mobile devices and Google actively penalizes sites that are not optimized for mobile users," Get My Auto affirms.
A final ranking factor for dealers to consider is security. "Users want to feel like their personal information is safe and secure whenever they visit your website," Get My Auto states. "As such, sites with HTTPS coding tend to rank the best."
Get My Auto is a marketing and website development company that works exclusively with used car dealerships. "We know what it takes to make a website that ranks well and converts," the company concludes. "To learn more about our website and SEO services for used car dealers, reach out to Get My Auto today."
More information about Get My Auto can be found online at www.dealers.getmyauto.com.
ABOUT:
Based in Orange County, California, Get My Auto is in the business of connecting consumers with their next new or used car and of helping dealerships thrive in an increasingly competitive market. At Get My Auto, buyers can learn more about the local dealerships that are best-suited to meet their needs and also get advice that helps them navigate the buying journey. Dealers, meanwhile, come to Get My Auto for their rich experience in Craigslist, Facebook marketing, custom software and more. To learn more about Get My Auto, call (949) 506-5868 today.
Source: Get My Auto
---
Categories: Marketing, Automotive
Tags: Auto Sales, Car Dealerships, Craigslist, Facebook, Facebook Ads, Facebook BeBacks, Get My Auto, Get My Auto Dealers, GMA Dealers, Holidays, K.I.S.S., Used Car Sales
---