FSB Core Strategies Utilizes SBA 504 Loan to Purchase Historic Office Building
Press Release
•
updated: Feb 7, 2018
Local PR Firm buys 130-Year-Old Historic Property in Downtown Sacramento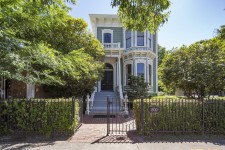 SACRAMENTO, Calif., February 7, 2018 (Newswire.com) - FSB Core Strategies purchased the historic property located at 1800 J Street in Downtown Sacramento to serve as a new home for their business. The property is perfect for this tight-knit firm – giving them an added family-feel to their operations.
Cherri Spriggs Hernandez, Executive Vice President and Chief Marketing Officer, is enthusiastic over the move. "Moving into our own building has been so incredibly exciting! Since our building is nearly a 150-year-old Victorian, it really changed our office culture quickly – and for the better! We always say we're the most family business you'll find, but none of us are actually family. Now we have a 'house' for our family!"
We are very happy with our experience with TMC Financing. It's wonderful that the SBA 504 Loan Program is available to help businesses like ours.

Cherri Spriggs Hernandez, Executive Vice President and Chief Marketing Officer of FSB Core Strategies
Founded in 2002, FSB Core Strategies is a public affairs, public relations and political consulting firm that has received many awards and accolades over the years for their impactful work. The firm is owned and operated by President and CEO, Jeff Flint, and Principals Cherri Spriggs Hernandez and Kristy Babb. The firm's expertise expands from strategic council to research to website development and has been instrumental in many local political campaigns throughout the years.
This small business' new home also has a history in politics. The 3,963 square foot historic Victorian building was built in 1887 and was originally the home of the Wittenbrock family, a family that was prominent in early California politics. In 1962, the home changed hands and became the headquarters for Senator Thomas Kuchel's reelection campaign. The building is one of the last Victorian homes converted into office space on a commercial corridor in midtown Sacramento.
"The SBA [Small Business Administration] 504 Loan Program allowed this small business to go from leasing to owning with only a 10 percent down payment," says TMC's Senior Vice President of Business Development, Jim Azevedo. "It's always so great to see a small business make this transition that will be so beneficial to them down the road."
Moving into their building is the start of a new chapter for the business. "We have so much pride in our new building that each and every project we take on has even more meaning because we know we've made this investment. We'd like to purchase a building for our southern California office next," said Spriggs Hernandez.
The 504 Loan Program
The 504 loan provides quality financing to small business owners for the purchase of fixed assets like commercial real estate and equipment. The SBA created the loan program to promote prosperity amongst small business in the United States and encourage job growth.
The borrower injects a small down payment starting at 10 percent, a conventional lender provides the first mortgage, and the SBA provides the second mortgage up to 40 percent of the total project cost. Conventional lenders are incentivized to participate in the program as they can finance only 50 percent of the project and remain in first lien position.
To show its support of all U.S. veterans, the SBA incorporated an additional incentive into the SBA 504 Loan Program for veteran small business owners. The VetLoan Advantage Program offers a $3,000 cash rebate at the time of funding to offset the costs of appraisals, environmental reports and other loan expenses to veterans who own 51 percent or more of the business. FSB Core Strategies was eligible to participate in this program and it is considered by many to be an added benefit to an already very attractive loan program.
TMC Financing has over 35 years of experience providing 504 loans to small businesses and is a Premier Certified Lender with the SBA. TMC works with you to obtain best loan package possible in the shortest amount of time. A TMC 504 loan expert can answer all your questions and discuss your financing options. Contact TMC today to get started.
Source: TMC Financing