ElinkSmart Unveils the New Smart Home Wi-Fi Camera Kit
The Smart Home Product's manufacturer, which is located in Shenzhen, China, has recently launched a new type Smart Home Security Kit.
Press Release
-
updated: Jun 25, 2018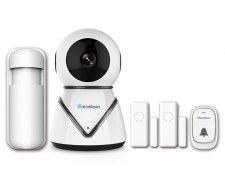 SHENZHEN, China, June 25, 2018 (Newswire.com) - As Smart Home products increase in popularity since the CES 2018, more and more exhibitors present the Smart Home products and solutions. Earlier before wireless technology connected to smart home devices, it was pricey and difficult to control the home automation devices by cable compared to the internet connection. These limitations made it hard to be user-friendly.
Along with the development of the wireless technology, especially the rise of the Zigbee and Z-wave technology, home automation became easier and more affordable. Because of the different standards between the manufacturers and the home automation devices, smart devices from the different brands were isolated. Fortunately, companies like Amazon and Google are now establishing open standards to connect smart home devices manufactured by companies.
Also, thanks to the development of the AI technology which includes human face recognition and humanoid identification, it becomes possible for products such as smart door lock and the home security camera which can recognize the face, detect the active motion, and even be triggered automatically in different situations.
Unlike the two famous voice assistants, Amazon Alexa and Google Assistant, ElinkSmart makes it possible to operate and connect the smart home devices in a totally different home automation method. The ElinkSmart Smart Wi-Fi Camera Kit includes the Wi-Fi security camera and the Smart Door/Window Sensor, the Wi-Fi security camera and the PIR sensor. When the sensors in preset position are triggered, the camera will automatically catch the motion and capture the on-the-spot video.
The Smart Wi-Fi Camera Kit ranges in price from $80 to $100, visit www.elinksmart.net for more information.
About ElinkSmart
ElinkSmart is a brand owned by Shenzhen Elink Smart Co., Ltd. The ElinkSmart strive to deliver the latest Smart Home resolutions for the customers all over the world. The ElinkSmart provides the smart home products categories and home entertainment products, making your life smart and easy.
About ElinkSmart Co., Ltd.
ElinkSmart Co., Ltd. is one of the world's leading manufacturers of Smart Home Products, which has three manufacturing centers based in Shenzhen, Anhui, China and Delhi, India, over 2600 employees and 300 engineers in R&D team, has more than 160 patents and copyrights. ElinkSmart and Eseesmart are the brands owned by the ElinkSmart Co., Ltd. The products are sold worldwide in Europe, Japan, U.S., India, and China.
Source: Shenzhen ElinkSmart Co., Ltd.
Share:
---
Categories: Electronics
Tags: PIR sensor, Security camera, Smart doorbell, Smart Home products, Smart Home Security Kit, Wi-Fi camera, Window Door Sensor
---