Dr. Elena Eustache is About to Unveil LoveTheApp, an Exhilarating Original App Designed for People Who Long to Be in a Committed Relationship
Press Release
•
updated: Jun 4, 2018
Ready to find true love?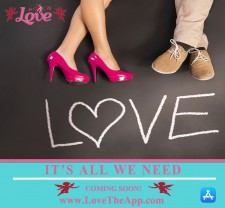 LOS ANGELES, June 4, 2018 (Newswire.com) - World-renowned love and relationship expert Dr. Elena Eustache, also known as the Encyclopedia of Love, is launching a new and exciting app called "LoveTheApp" this summer. The app hasn't officially launched yet, but thanks to the growing following on social media, hundreds of people have already begun signing up via the website. LoveTheApp is an advanced online tool designed for users who are genuinely seeking life-long committed relationships or marriage. The idea behind LoveTheApp was inspired by Dr. Eustache's desire to help bring true love into the lives of all who wish to find it. As a highly sought after couple and relationship expert, Dr. Eustache has helped thousands of people find their soul mates and she hopes this app will help even more people find their forever love.
"All you need is love," said Dr. Elena Eustache, creator of the LoveTheApp. "Today's world has become a very challenging place in which to find true love. The loss of values, morals, respect, trust and commitment make this endeavor seemingly impossible, with instant gratification playing an underlying role in today's society. The desire to build relationships, marriages and families seem to be lost. Quantity over quality seems to be the driving force behind most dating sites. 'Quick hookups' and 'casual dating' have become the new relationship status of many. Although the majority of today's society seems to want a quick 'one night of love' fix, countless people long for that happily-ever-after relationship. This is why I created LoveTheApp and why it differs from other dating apps and sites."
All you need is love.

Dr. Elena Eustache, Creator of Love The App
Eustache defines her brand as a tough, straightforward, no-games approach, and users can also expect that same position from LoveTheApp. This one-of-a-kind app is not a casual dating application or dating site. Users will be able to search for, identify and connect with others who also aspire to be in a committed "forever" relationship, like marriage or a lifelong partner, who also shares their needs and goals. For example, someone who may want to have children might be coupled with someone who might already have children in the hopes of growing and or merging their families. Truth be told, this new app will definitely help numerous people find the right person for them, minus all the games and nonsense. In addition to LoveTheApp, Dr. Eustache's first book titled "The cure to your broken heart" will be released in stores and on Amazon this summer.
About LoveTheApp
LoveTheApp, created by Dr. Elena Eustache, is uniquely designed for users who are genuinely seeking a long-lasting commitment, marriage, family and children. LoveTheApp is a safe place, where singles can find the love of their life. For more details, please see www.LoveTheApp.com. Follow LoveTheApp on Twitter and Facebook.
About Dr. Elena Eustache
Dr. Elena Eustache, founder of the Eustache Institute and also known as the Encyclopedia of Love, has a Ph.D. in psychology and cognitive behavior therapy. In addition to being a relationship expert to the stars, as well as a respected individual counselor, Dr. Eustache is the executive producer and host of The Dr. Elena Eustache Show on Instagram, where she interviews many of today's hottest celebrities. Currently, Dr. Eustache is writing her first self-help book on the subject of love and relationships titled "The cure to your broken heart," anticipated in stores and on Amazon summer of 2018. Also find her on Facebook.
Source: Eustache Institute
Related Media