DMCs Are Making Destination Events for Companies Easier and More Cost-Effective in 2020
Press Release
•
updated: Nov 20, 2019
Destination management companies are creating value for companies looking to go the extra mile with corporate destination events.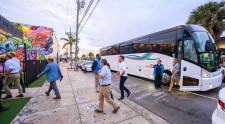 ORLANDO, Fla., November 20, 2019 (Newswire.com) - ​​​​In the current experience economy, DMCs are saving planners time, cost and hassle by getting more competitive about creating service and buying efficiencies while continuing to provide deep local expertise. According to Managing Partner Joe Fijol of 360 Destination Group, events can cost nearly 40 percent more, depending on what's being purchased, when a company chooses not to utilize a destination management company (DMC).
Fijol explains, "From vendor management, to planning and logistics through to final billing, an event can take hundreds of hours and has thousands of moving parts. DMCs are well-positioned to handle these components in less time and offer deep knowledge working with local hotels, restaurants, entertainment providers and transportation vendors to ensure flawless execution. This experience ensures planners will have fewer unwanted surprises as well as comprehensive, up to the minute information about what's new in the market to help them improve the attendee experience."
As importantly, planners benefit from a DMC's local buying power as well as national relationships if affiliated with a larger network. "As part of nationwide 360 Destination Group, our Florida offices not only get better rates from local partners and vendors but from 360's global partners as well. This saves considerable money while offering stronger collective creative thinking – allowing us to create better experiences built around the client," said Fijol. "Some of our relationships span decades, which results in even more efficiencies and benefits being passed along to the client."
With measuring ROI becoming a growing concern, DMCs will likely take a more proactive role in helping planners connect the dots between experiences and return in 2020. "With research showing that B2B event attendees want experiences found at consumer events, DMCs know how to create these moments to drive attendee engagement and satisfaction," said Fijol. "We see a lot, and not just in our own markets, but nationwide. Our global creative teams can be an invaluable resource for new ideas and thinking."
For planners looking for tropical destinations in 2020, Florida is also well-positioned to be a competitive, cost-effective solution given recent challenges in off-shore bookings in surrounding areas. "The state has a steady stream of properties opening or undergoing renovation, providing a broader inventory and choice for planners," said Fijol. "In addition our markets offer some of the best lift in the world, making transportation easier and more affordable."
Fijol has had more than 20 years of experience in the industry including the incentive, cruise, resort, and destination management company perspectives prior to opening 360's Florida offices. This broad range of experience, combined with his well-established relationships in the Florida market, ensure clients receive the highest level of expert service.
Fijol and his Florida team won Gold at this year's Stella Awards, which honors hotels and suppliers that consistently deliver quality service and innovation for meeting and events planning professionals. The winners selected at the Stella Awards have demonstrated their commitment to helping meeting professionals pull off flawless events.
For more information about the value that 360 Destination Group Florida brings to companies planning destination events and to learn more about Fijol's expertise, visit 360dg.com.
About 360 Destination Group Florida
Founded more than 40 years ago, 360 Destination Group Florida is part of an award-winning national network that includes seasoned, energetic industry professionals who push the creative envelope. The company has offices in Amelia Island, Orlando, Miami Beach and Fort Lauderdale. For more information, visit 360dg.com.
Source: 360 Destination Group Florida
Related Media