Discoperi to Decrease the Number of Car Accidents by 25%
Press Release
•
updated: Jul 12, 2018
One of the most promising automotive startups Discoperi has created a unique solution System "Eye" that aims to increase the drivers' safety and significantly reduce the number of car accidents worldwide thanks to AI-algorithms and blockchain technology.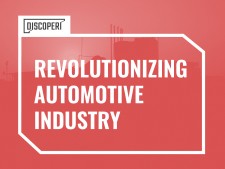 MADRID, July 12, 2018 (Newswire.com) - The automotive industry grows at an accelerated pace, and its data is estimated to reach $1.5 trillion in value by 2030. Devoted solely to increasing the drivers' safety on the roads, Discoperi aims to save 300,000 lives annually and reduce the number of car accidents by 25%.
System "Eye" is an intelligent IoT device that combines evolving deep-machine learning AI algorithms, big data analytics and a cloud-based Data-Transaction-Platform (DTP). Based on the blockchain technology, "Eye" allows ecosystem members to transact their data with each other in a secure, transparent, and confidential way.
System 'Eye' with all the data can identify the vehicle's characteristics, recognize driving behavior and predict possible accidents. This tiny device is able to decrease the number of people injured in car accidents by 15 million annually if adopted globally.

Alex Bondarenko, CEO of Discoperi
Disoperi team has already won multiple awards across the globe including the Top-50 high-potential startups at G-Startup, Tel Aviv, and the Top-50 innovative startups of the world at The New York Venture Summit.
Discoperi maintains business relations with many prominent international companies and is looking to expand its cooperation with governmental institutions, regional businesses, and OEMs to improve drivers' safety.
About Discoperi:
Discoperi, Inc. is a leading startup in the automotive industry that has developed a blockchain-based solution called System "Eye" for vehicles data collection & monetization as well as AI-based solutions for drivers' safety improvement & accident prevention. System "Eye" combines a powerful IoT device, big data analytics, artificial intelligence, and the decentralized network of connected vehicles (DNCV).
Source: Discoperi
Related Media
Additional Links