'Delaware Shore' Theatrical Run in Delaware Begins on Jan. 25
Press Release
•
updated: Jan 14, 2019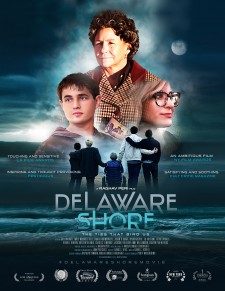 NEWCASTLE, DEL. , January 14, 2019 (Newswire.com) - Avocado Media announces their award-winning film "Delaware Shore," directed by Raghav Peri, will premiere on Jan. 25 in Delaware.
Delaware Shore. Drama. Written, produced and directed by Raghav Peri. Based on the novel by Michaelangelo Rodriguez. From Avocado Media. (Color, 2018, USA, 98 minutes, not rated.) Starring Gail Wagner, Emily McKinley Hill, James Robinson Jr., Kevin Austra, Ed Aristone, Kevin Francis, Sharyn Pak Withers, Charles "Linwood" Jackson, Kirsten Valania, Kevin D. Benton, and Jason R. Maga.
A Holocaust survivor, Agnes, living in Slaughter Beach, Delaware, is tasked with raising her grandchildren after they are abandoned on her doorstep. As they grow up, she finds she is not able to control them. Her grandson Gallagher finds himself in a gay romance with a sincere suitor. The granddaughter, Tasha, is attracted to a young hoodlum. Agnes, permanently traumatized by her wartime experiences, is emotionally abusive to Gallagher and Tasha. Will they be able to forgive her before it's too late?
Winner - Los Angeles Film Awards; New York Film Awards; Hollywood International Moving Pictures Film Festival; Calcutta International Cult Film Festival; Oniros Film Awards; Accolade Competition; Festigious International Film Festival.
"Delaware Shore got a big thumbs up from general audiences when it got released in NY and LA last December. It was in the first state where we shot the film and we are so happy and thrilled to bring it back to where it all began. It's an important and thought-provoking film. I can't wait for everyone to see this film in Delaware," says Peri, speaking in regard to his first feature film.
The movie will open at Penn Cinema Riverfront, 401 S Madison St., Wilmington, DE 19801. Jan. 25-31, 2019. Contact venue for show times. Information: (302) 656-4314. Online ticketing: https://www.penncinema.com/
Tickets are also available at Fandango.
Press/media contact:
Philip M. Mascherino, (484)-612-5728, phil@mascherinofinancial.com​​
For all other queries, delawareshoremovie@gmail.com
Source: Avocado Media
Related Media