Dapper App Gives Global Fashion Community a Place to Discover, Create and Connection
Press Release
-
updated: Jul 11, 2019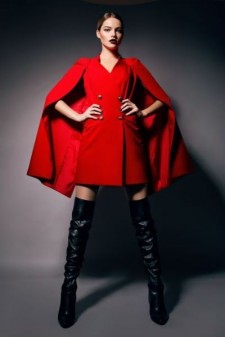 LOS ANGELES, July 11, 2019 (Newswire.com) - ​​Those who truly appreciate fashion are continually looking for inspiration to guide their own unique style. Likewise, up-and-coming designers often need a forum to showcase their new looks. Now there's an app that does both. Meet Dapper – a place where the global fashion community can go to discover, create and connect. It will launch in beta mode in the Fall and style purveyors are invited to sign up to join the pre-launch community at www.dapper.fashion/email.
The subscription-based app caters to designers, models and fashion aficionados who want to find cutting edge style ideas, learn about what's hot and share their own creative notions. Dapper is the brainchild of Peter Chen, who has a diverse background in retail and supply chain merchandising and business development for mega-organizations like Westfield - which is branded as the premiere global developer and operator of flagship shopping destinations.
"My vision for Dapper developed when I was working on various shopping center development projects and observed firsthand the experience that modern, luxury shopping centers want to bring to its guests," explained Chen.
With that early vision as the foundation, Chen set out to create a forum for talented entrepreneurs trying to break into the competitive fashion industry a place to showcase their handiwork while getting feedback from their like-minded style-savvy soulmates. The platform, which boasts crisp high-end photography and graphics, also is the go-to place to hear from established fashion trendsetters across the globe on what's hot and what's not.
Style-sharing categories in the app include: Bold, Sexy, Emo, Retro, Minimalist, Chic, Urban, Timeless and on and on. And the Journal section offers broad insight on a seemingly endless selection of style topics like dressing for success, eco-friendly clothing options, the inner mindset of a stylist and masculine attire.
"Fashion is a dreamer's game and Dapper is the place for dreamers. It lets individuals with a passion for fashion come together to create and originate their own style rules. Our users will disrupt tradition, subvert stale expectations, and forge their own place as style icons," stressed Chen. "We are so excited about our pre-launch and the possibilities the future holds."
For more information about Dapper and joining the pre-launch community, visit their website or see them on Instagram or YouTube.
For Media Inquiries: ​Contact ​Peter Chen |281-731-1011 | hello@dapper.fashion
Source: Dapper
---
Categories: Fashion and Apparel
Tags: Apparel, Apps, Clothing, Dapper, Design, Fashion, Models, Style, Trendsetter
---