Cinema Libre Studio Accquires Marion Cotillard Cannes Film 'Angel Face'
Press Release
-
updated: Jun 27, 2018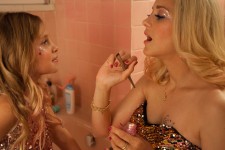 LOS ANGELES, June 27, 2018 (Newswire.com) - Following its premiere at the Cannes Film Festival in the Un Certain Regard competition, Cinema Libre Studio has acquired North American rights to "Angel Face" (Gueule d'Ange), starring Marion Cotillard. This is the first feature-length film for French director Vanessa Filho ("Love Punch"), based on an original screenplay developed by Filho with Alain Dias (aka Diastéme, writer of "French Blood"). The film was produced by Moana Films' Marc Missonnier ("Marguerite") and Carole Lambert ("Free Angela and All Political Prisoners") via Windy Production with Mars Films co-producing and distributing in France, where it premiered in theatres May 23.
The film stars Oscar-winner Cotillard as Marlene, a single mother who lives with her 8-year-old daughter, Elli, on the French Riviera. Marlene is more interested in partying and reality TV shows than taking care of her child, although she loves her dearly. Elli, with her mother as her only role model, starts to mirror behaviors, including wearing makeup and drinking alcohol. One day Marlene suddenly abandons her daughter for a man she has just met during yet another night of excessive partying. Elli left alone, and in need of a parent, finds an unwitting father figure.
The extremely self-sufficient child Elli is portrayed by newcomer Ayline Aksoy-Etaix, with additional roles played by Alban Lenoir ("Taken"), Amélie Daure ("Frontiere(s)") and Stéphane Rideau ("Wild Reeds").
In choosing this role, Cotillard plays a taboo character: a very bad mother. "I think she's the classic pattern of a woman who thinks she doesn't deserve the love that others have for her: she throws away her loving relationships," says Cotillard of the character. In approaching this character who ends up abandoning her daughter, Cotillard says. "She doesn't realize in her thirst for self-fulfillment, freedom and the profound wish to achieve something for herself, she's abandoning a child who isn't old enough to grow, develop and conduct herself on her own."
Following Chinese financier Lily Yang's expanded investment into Burbank-based Cinema Libre announced at Cannes, its founder and CEO Philippe Diaz negotiated the deal with Nicolas Brigaud-Robert, partner and co-founder of the Playtime group. Says Diaz, "Angel Face (Gueule d'Ange) was definitely the strongest and most powerful film I saw in Cannes this year--and I saw many of them. The film is illuminated by Marion Cotillard's unbelievable acting which should earn her a new Oscar nomination for inhabiting this complex anti-hero so completely."
Brigaud-Robert of Playtime says: "We are proud to be at the start of Cinema Libre new expansion, we were impressed by their immediate enthusiasm for ANGEL FACE from the first Cannes screening, and working with new partners is always a chance to expand future business opportunities."
"Angel Face" will open later this year in theatres.
ABOUT CINEMA LIBRE: Cinema Libre Studio is a full-service mini-studio known for producing and distributing high-quality feature films and social impact documentaries. Headquartered in the Los Angeles area, the team has released over 200 films.
www.cinemalibrestudio.com | www.facebook.com/cinemalibrestudio.com | twitter.com/cinemalibre
ABOUT PLAYTIME: Playtime (known as Films Distribution until September 2017) is a Paris-based international sales agency active since 1997. For the past 20 years, the company has made a name for itself in the marketplace as a high-end sales outfit selling feature films to international distributors and broadcasters. Playtime is also an active co-producer, under the Playtime Production banner, and has recently set up a television sales arm for international series.
http://playtime.group | https://www.facebook.com/GroupPlaytime | https://twitter.com/PlaytimeIntl
Source: Cinema Libre Studio
Share:
---
Categories: Movies
Tags: breaking news, cannes, celebrity, entertainment, film, film festival, hollywood, marion cotillard
---