Christmas #MustWatch List: Passionflix to Bring Ruth Clampett's Bestselling Holiday Romance 'Mr. 365' to the Screen
PASSIONFLIX collaborates with Canada's Reel One to bring Ruth Clampett's novel 'Mr. 365' to the screen, this holiday season.
Press Release
-
updated: Sep 18, 2018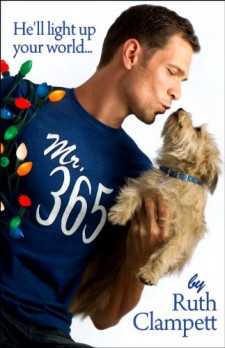 PLAYA VISTA, Calif., September 18, 2018 (Newswire.com) - PASSIONFLIX is thrilled to announce Ruth Clampett's holiday romance Mr. 365 will be exclusively available on the platform this holiday season! Mr. 365 marks Passionflix's first co-production with Canadian entertainment company Reel One.
When reality show producer Sophia is assigned to convince Christmas fanatic Will to be on their holiday special, she imagines him to be an oddball Momma's boy wearing a reindeer Christmas sweater. What she doesn't expect is the handsome, mysterious man who captures her attention, and seems determined to win her heart.
Their attraction is undeniable, and as charming Sophia convinces Will to work with her, she slowly unwraps the secrets in his past that make this determined and soulful man still yearn for the childhood he never had.
When the chaos of production starts, will Sophia be able to keep her promises to protect Will from being exploited, or will the bitter truth of reality television be a runaway train of disaster for both of them?
Join Sophia, Will and his dog Romeo to enter the world of his enchanting holiday house where stars shine indoors and snow is always falling…365 days of the year.
"We are ecstatic about our first partnership with Passionflix on this wonderful property," says Reel One Chief Executive Officer, Tom Berry. "Ruth Clampett's beloved Mr. 365 has all of us charmed at Reel One, and we can't wait for the fans to unwrap this film for Christmas!"
Passionflix Founder and CEO, Tosca Musk is eager to bring the story to the screen, "Ruth's (Clampett) story caught my attention the minute I was told about it. I am honored to make exceptional romances throughout the year, and Mr. 365 is just that – the perfect Holiday treat – smart, sexy and dashing! We are thrilled to be co-producing this movie with Reel One and look forward to releasing Mr 365 exclusively on Passionflix this holiday season!"
"If you like sexy, contemporary Christmas romances, Mr. 365 is for you," raves Ashley Farley. Stephanie's Sexy Reads says, "Ms. Clampett is a smart and witty writer who has a way of magnetically drawing you in."
Ruth Clampett aims to infuse humor, drama, and passion into the romantic lives of strong heroines and heroes and their worthy and determined counterparts. In addition to Mr. 365, Clampett has written seven novels including Animate Me and the Work of Art trilogy.
Christie Will Wolf, who previously directed films such as Slightly Single in LA and A Wish for Christmas, will direct, with Gary Goldstein adapting for the screen. Casting for Mr. 365 is currently underway and will be in production in Canada soon. The film is set to be released exclusively on Passionflix this holiday season.
'Mr. 365' will be joining Jill Shalvis' The Trouble with Mistletoe, in the Passionflix Holiday Originals.
Get Ready to Watch!
Subscribe here: PASSIONFLIX for unlimited access to PASSIONFLIX movies and series. Cancel anytime. Romance on demand is just a click away.
About PASSIONFLIX
PASSIONFLIX is a premium romance-on-demand streaming service offering original movies and other digital content adapted from bestselling books along with an impressive library of all-time favorite romantic classics. Founded by Tosca Musk, Jina Panebianco and Joany Kane in 2016, PASSIONFLIX brings an empowering focus to the female gaze. PASSIONFLIX is available online and through an app for mobile, digital entertainment systems, and Smart TVs. https://www.PASSIONFLIX.com
About Reel One:
Premiere Bobine is the parent company for Reel One Entertainment, Reel One International and Reel One Pictures (also known as Reel One). Reel One has its head office in Montreal (Canada), and offices in Los Angeles, London, and Vancouver. The principal business of Reel One is the development, financing, production, and distribution of commercial television films and television series, catering to broadcasters all over the world. Reel One is proud to produce and distribute high-quality content that is considered among the best in its niche.
Follow PASSIONFLIX to stay up to date on the whirlwind world of romance:
https://www.facebook.com/PASSIONFLIX
https://twitter.com/PASSIONFLIX
https://www.instagram.com/PASSIONFLIX
https://www.pinterest.com/PASSIONFLIXcom
Share your excitement with #PASSIONFLIX #Mr365
# # #
PRESS CONTACT:
PASSIONFLIX
​PassionflixPR@ppmg.info
310-860-7774
Source: Passionflix
Share:
---
Categories: Movies
Tags: Best Christmas Movies, Books to Screen, Holiday Romance, Romance, Romance Novels
---