CEO Brandon Frere: The Startup Mentality of the Social Entrepreneur
Press Release
-
updated: Oct 11, 2018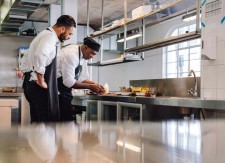 PETALUMA, Calif., October 11, 2018 (Newswire.com) - Entrepreneurship doesn't always come from a desire to start a business. But it always comes from imagining a future beyond the status quo. For those that rise up and beyond the narrow confines of city streets and low expectations, it can be especially important to return and offer that vision for others. Social entrepreneurs, such as Brittany Young, who began the B-360 program in Baltimore, to promote STEM skills and end poverty through the outlaw urban dirt bike culture, is one example. Brandon Frere, CEO of Frere Enterprises and other ventures, appreciates social entrepreneurs, such as Young, who teach substantive academic and entrepreneurial skills to inner-city youth.
"Entrepreneurship is about having the vision to see the problem with a wider lens, and then being able to focus in on solutions with a narrow lens," said Frere. "Social entrepreneurs require the same vision and focus."
For-profit entrepreneurs typically measure success with metrics such as profit, revenue, and stock price. But social entrepreneurs are often non-profit, or like Young's program, blend for-profit arms with their non-profit aims, such as decreasing poverty and increasing healthcare and community development. For example, CHEFS, Conquering Homelessness Through Employment in Food Services, alleviates homelessness in San Francisco by running a kitchen that trains the homeless in culinary skills and supplies meals to tech companies throughout the city. CHEFS is a five-month program that trains and provides internships for individuals who are on the street or in a shelter, transitional housing, or a residential treatment facility. 
Social entrepreneurship can also spring from successful entrepreneurs who want to share their wealth with others and can be facilitated by social networking and media that leverages social connections with larger and larger audiences. Of course, there are incredibly large examples of this including The Bill and Melinda Gates Foundation and The Chan Zuckerberg Initiative. A smaller example, though one with a global reach, is The Pollination Project, which began by giving away $1,000 to someone, somewhere in the world who had filled a social gap or need, such as finding jackets for the homeless in Minnesota or building hand drilled water wells in Africa. This seed money might or might not give the individual the means to become bigger and more ambitious in their goals. Rather than the Gates Foundation, which only funds established organizations, The Pollination project funds driven, passionate individuals.
"The measure of a company should not be simply in profitability," said Frere. "Companies should be measured by the value added to the lives of their employees and clients. Social entrepreneurs are fully measured by the value added to the lives of everyone touched by the program, and require all the innovativeness, determination, and resilience of a for-profit."  
About Brandon Frere
Brandon Frere is an entrepreneur and businessman who lives in Sonoma County, California. He has designed and created multiple companies to meet the ever-demanding needs of businesses and consumers alike. His website, www.BrandonFrere.com, is used as a means of communicating many of the lessons, fundamentals, and information that he has learned throughout his extensive business and personal endeavors, most recently in advocating on behalf of student loan borrowers nationwide.
As experienced during his own student loan repayment, Mr. Frere found out how difficult it can be to work with federally contracted student loan servicers and the repayment programs designed to help borrowers. Through those efforts, he gained an insider's look into the repayment process and the motivations behind the inflating student loan debt bubble. His knowledge of the often confusing landscape of student loan repayment became a vital theme in his future endeavors, and he now uses those experiences to help guide others through the daunting process of applying for available federal repayment and loan forgiveness programs.
BrandonFrere.com
Source: Brandon Frere
---
Categories: Entrepreneurship
Tags: CHEFS, community, entrepreneurship, for profit business, small business owner, social entrepreneurship
---