Celebrate Spring With a New Clean by JAWS®
Press Release
•
Apr 4, 2022
The Innovative More Sustainable Way to Clean Your Home: Enjoy 20% Off This April Only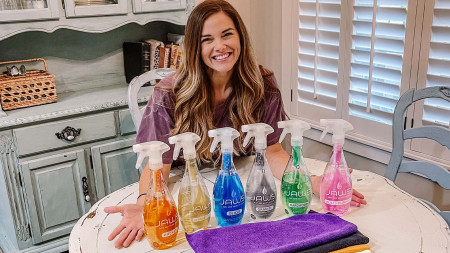 TOLEDO, Ohio, April 4, 2022 (Newswire.com) - Celebrate Spring with a special offer from JAWS®, the innovative more sustainable Just Add Water cleaning system. Spring cleaning is a wonderful time to discover more sustainable household cleaning solutions. To help you tackle Spring Cleaning chores and become a year-round JAWS® user, JAWS is offering a special spring promo through April 30. Get 20% off any order with promo code - SPRING.
Spring is an ideal time to use pioneering household cleaners that help save the earth's resources. JAWS®, Just Add Water System offers an array of concentrated cleaning formulas packaged in small cartridges. Just drop a cartridge of concentrated cleaning solution into a JAWS reusable spray bottle filled with tap water. Once you twist on the sprayer, the concentrate is released from the cartridge and mixed with water to create a powerful cleaner that removes dirt and grime without leaving chemical residues, streaking or hazing.
Cleaning with JAWS® means no more carrying heavy bottles of cleaner that are filled with mostly water. JAWS Refill cartridges save energy and money whenever it's time to restock household cleaners. It also means no more storing bottles of extra cleaners that take up storage space. The refill cartridges are so small and easy to store, that the entire line of JAWS cleaners can fit in a drawer.
JAWS® lineup of eight household cleaning solutions includes six EPA Safer Choice Certified formulas including JAWS Glass Cleaner, Daily Shower, Kitchen Cleaner, Floor Cleaner, Granite Cleaner, and Foaming Bathroom Cleaner, and will soon include JAWS Multi-Purpose Cleaner. JAWS® EPA Safer Choice Certified products contain safer chemicals that provide equal or better cleaning performance than leading household cleaners. These cleaners meet the strict safety standards set out by the EPA and are safer for people, pets, and the environment. JAWS also offers a one-step Disinfectant Cleaner that kills 99.9% of viruses* and bacteria.
About JAWS Cleaners: JAWS International, Ltd., is a technology company committed to protecting the environment with effective, concentrated cleaning products using safer chemicals. To that end, JAWS International, Ltd. developed JAWS, Just Add Water™ System - a patented, innovative non-toxic cleaning system designed to reduce the environmental impact of packaging in conventional spray-cleaning products, conserving the resources required to produce and ship them, while trimming end-use plastic disposal. A Founding Principal of the Company is Stop Shipping Water. It's the Right Thing to Do™.
Press contact: Sabrena Gartland | sgartland@iacircle.com
Source: JAWS