Buzzfeed's Shocking 'As Seen on TV' Product Review Hits Record Numbers
Press Release
•
updated: Dec 2, 2016
The major news site is known for its "trending" stories on the web. After seeing Z Skin Cosmetics on TV, the BuzzFeed writer wasn't buying the overwhelming claims they made. Now the results from testing out Z Skin have gone viral, hitting record breaking views.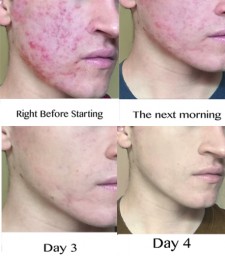 New York, NY, December 2, 2016 (Newswire.com) - Z Skin Cosmetics has exploded onto the market after appearing on Lifetime's newest shark-tank style show 'Project Runway Fashion Startup' just a few weeks ago. Appearing on the show to pitch his organic affordable acne line to investors, founder and CEO Ryan Zamo stated that he created his line after clearing his own skin in just 8 days, using only his homemade products.
Not believing the story to be true, a writer for the BuzzFeed community set out to test the products and prove he was lying, and the shocking results have now gone viral. The number of reads on the Buzzfeed article have already smashed past those of the Huffington Posts article on Z Skin Cosmetics, in which they named the brand the "#1 Beauty Products of 2016".
The number of reads on the Buzzfeed article have even smashed past those of the Huffington Post's article on Z Skin Cosmetics, in which they named the brand the "#1 Beauty Products of 2016.

Geff Yabes, VP Marketing
Ryan Zamo, 27-year-old creator of Z Skin Cosmetics, said he was not surprised that people didn't believe his story. He said, "Honestly, I wouldn't believe it either. I never found anything that helped my skin, and certainly was not thinking an "affordable organic skincare line" would help. That's why I offer 100% money back guarantees, if they don't like the results, for any reason, I will refund them in full. But I am certainly glad a high power site did an article like this, maybe it'll help more people see that Z Skin actually works."
In the article titled, "As Seen On TV; Do These Products Actually Work?", the writer states that his nephew suffered from severe acne, so he purchased the products and had him test them out. The Buzzfeed author starts out stating, "I thought there was no way it would actually work, but I feel like a fool now, because to my surprise they actually did!" Referring back to Zamo's appearance on Project Runway Fashion Startup, the article goes on to say, "He said it cleared his skin up in 8 days, well it didn't clear my nephews skin in 8 days, it only took 4!"
Though not shown on the show, the other products tested in the review came from the Z Skin Cosmetics Age-Defying line of products, the author says, "It literally wiped away my wife's wrinkles and laugh lines, and has saved me a ton of money on a face lift, since there are no more wrinkles." The article wraps up with a summary from the author and his review, saying, "Z Skin Cosmetics products work, all of them."
Becoming one of the top stories by any of Buzzfeed's contributors, the article is now at almost 70,000 reads since it was posted a few days ago. Zamo said, "I don't know if people are reading it hoping that it is going to expose some "As Seen On TV" scam, but none the less, I am beyond grateful for the exposure. Mostly I am hoping that people will give my products a try, and with this review, I think it will add much more legitimacy to my products."
To read the full Buzzfeed article, visit: https://www.buzzfeed.com/lifemag/as-seen-on-tv-do-these-products-actually-work-2hnzo?utm_term=.iyd0BPZbW4#.jv2goR4yOJ
For more information on Z Skin Cosmetics, visit: ZskinCosmetics.Com
Source: Z Skin Cosmetics
Related Media
Tags
Additional Links