Brandon Frere: Shift to Service Economy Requires Flexible Organizations to Build Solutions
Press Release
•
updated: Nov 14, 2018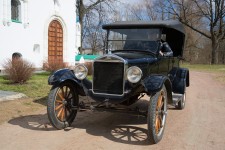 PETALUMA, Calif., November 14, 2018 (Newswire.com) - Henry Ford revolutionized consumerism, envisioning untapped, unlimited markets if a manufacturer could produce enough of something to drive down the cost, making goods accessible to the masses. Ford was mostly right. But, more than a century later, markets for goods are showing signs that they are not unlimited and that they may be saturated. Today's innovators and entrepreneurs are finding that consumers are more in need of services than goods, that the producer-driven economy is shifting to customer-centered markets. To succeed in the economy of tomorrow, businesses need to listen to customers — to adapt and respond to their wants and needs. Brandon Frere, CEO of Frere Enterprises and other ventures, understands this shift to service instead of goods.
"The global economy is no longer industry-driven, it is service-driven," said Frere. "Organizations need to be flexible and nimble, willing to jettison old habits and behaviors to better understand the needs of clients so that we can build them the solutions they need."
We cannot be stuck in yesterday's economy or even be mired down in today's economy.

Brandon Frere, CEO of Frere Enterprises
According to an O'Reilly Business article, manufacturing growth in the U.S. employment market remained relatively steady from 1942 until 2000 and has trailed off significantly since. On the other hand, beginning in 1960, service sector growth has increased dramatically. Manufacturing witnessed nearly 10 times less job growth than the service economy in the last decade. This is due to saturation — most people have the material goods they need to get by. People can upgrade for status or novelty, but there are no unlimited, untapped manufacturing markets for entrepreneurs to plunder.
Technology is a post-industrial revolution that drives informational abundance, allowing consumers to reach out farther and faster. Consumers are more connected and demand immediate access to the goods and services they desire. This has produced a wealth of consumer information, not just from page visits but from data pulled from consumers' networks of social connections — where they go, what they do there, what they buy and what they are considering as they make their way through their day. Even random, mundane thoughts are captured in posts, status updates, image and video uploads, and any other data that consumers generate.
The continuing shift to the service economy will require shifts in education. Most of the new jobs and businesses emanating from service sector growth will not replace disappearing low-wage jobs but will come in areas that require highly trained workers. According to the U.S. Bureau of Labor Statistics, service sector growth will come from healthcare, professional, scientific, and technical services and education.
"We cannot be stuck in yesterday's economy or even be mired down in today's economy," said Frere. "We have to look to tomorrow's economy which will be much more about service than about manufacturing. We will need to broaden our worldview and be open to new organizational structures that can provide solutions to customers who demand personalized service and attention."
About Brandon Frere
Brandon Frere is an entrepreneur and businessman who lives in Sonoma County, California. He has designed and created multiple companies to meet the ever-demanding needs of businesses and consumers alike. His website, www.BrandonFrere.com, is used as a means of communicating many of the lessons, fundamentals and information that he has learned throughout his extensive business and personal endeavors, most recently in advocating on behalf of student loan borrowers nationwide.
As experienced during his own student loan repayment, Mr. Frere found out how difficult it can be to work with federally contracted student loan servicers and the repayment programs designed to help borrowers. Through those efforts, he gained an insider's look into the repayment process and the motivations behind the inflating student loan debt bubble. His knowledge of the often confusing landscape of student loan repayment became a vital theme in his future endeavors, and he now uses those experiences to help guide others through the daunting process of applying for available federal repayment and loan forgiveness programs.
BrandonFrere.com
Source: Brandon Frere
Related Media
Additional Links