Brandon Frere Asks: Best Place to Be a Boomer Entrepreneur? Surprisingly, San Jose
Press Release
-
updated: Oct 29, 2018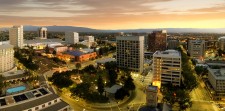 PETALUMA, Calif., October 29, 2018 (Newswire.com) - Surprisingly, the best city for baby boomer entrepreneurs is San Jose, despite the youth-drenched reputation of Silicon Valley. A recent Lending Tree study looked at entrepreneurs born between 1946 and 1964 and determined the percentage of businesses founded by boomers and their average and median incomes. San Jose was scored as the best place for older entrepreneurs, ranking at the top for new businesses founded by boomers (nearly one-quarter) and their average income ($47,401). Brandon Frere, CEO of Frere Enterprises and other ventures, constantly scans the business horizon for trends and opportunities, including places that are the most entrepreneur-friendly.
"Where you begin your business depends upon so many factors," said Frere. "Are there enough educated, motivated employees with the right skill sets? What is the licensing and regulatory atmosphere in the city and state? If your product or service is localized, do you have a market for it in that particular place?"
Boomers, with increased access to both human and financial capital, are now more likely than those in their twenties to start a business. San Francisco was ranked as the second best city for older entrepreneurs, with one in five businesses started by someone older than 54 years old and an average business income of $45,505. Third place belongs to Boston where 20.3 percent of businesses are founded by boomers and owners made an average of $38,543 per year. Sacramento and Nashville rounded out the top five. Boomers started about 19 percent of businesses there and made just over $35,000 per year.
The top five on this list runs contrary to narratives of California being too costly and overly regulated for businesses, with three of the top five all from northern California, all within about 120 miles of each other. Other top cities include, in order of placement, Hartford, Houston, Austin, Los Angeles, and Memphis.
The bottom five cities for boomers to start businesses are mostly based on their low median business incomes. While the average incomes hover around $20,000, the medians are much lower, meaning that wealth is concentrated at the top and most earn much less. New Orleans is the worst ranked city in the nation for boomer entrepreneurs with an average income of $20,562 but a median income, meaning half those studied made more and half made less, of $1,008. The lowest density of older founders is found in Salt Lake City, where only 12.1 percent of founders were boomers.
"Boomer entrepreneurial opportunities are booming, especially in northern California, it appears," said Frere. "Beginning a business is more than just dreaming up a great idea and it is critical to consider all factors, and location is certainly one of them."
About Brandon Frere
Brandon Frere is an entrepreneur and businessman who lives in Sonoma County, California. He has designed and created multiple companies to meet the ever-demanding needs of businesses and consumers alike. His website, www.BrandonFrere.com, is used as a means of communicating many of the lessons, fundamentals, and information that he has learned throughout his extensive business and personal endeavors, most recently in advocating on behalf of student loan borrowers nationwide.
As experienced during his own student loan repayment, Mr. Frere found out how difficult it can be to work with federally contracted student loan servicers and the repayment programs designed to help borrowers. Through those efforts, he gained an insider's look into the repayment process and the motivations behind the inflating student loan debt bubble. His knowledge of the often confusing landscape of student loan repayment became a vital theme in his future endeavors, and he now uses those experiences to help guide others through the daunting process of applying for available federal repayment and loan forgiveness programs.
BrandonFrere.com
Source: Brandon Frere
Share:
---
Categories: Entrepreneurship
Tags: baby boomers, boomer entrepreneurs, entrepreneurship, northern California, San Jose
---