Borofone Presents BE-10, the World's First Single and Dual Earphone in One!
Press Release
-
updated: Oct 1, 2017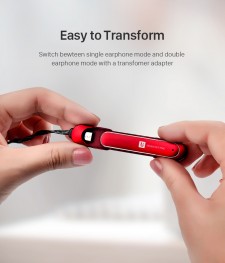 SHENZHEN, China, October 1, 2017 (Newswire.com) - With wireless earphones being in demand, it is no surprise that there would be a need for two-in-one headphones that are wireless as well. The Borofone BE10-Transformer Wireless Earphone has made its debut and it's bound to be a huge success.
Essentially, the Borofone BE-10 Transformer is a wireless earphone that is designed with two modes. These include both a dual channel mode and a single channel mode. It is extremely strong and versatile and can be used in any venue from a workout at the gym to soothing music for daily meditation.
Wireless earphones are in high demand as they are economic as well as practical. Wireless headphones are primarily for safety reasons as hands-free are now the way to go. However, these dual-purpose headphones are not only practical but stylish as well. Even fusionists will be impressed by this latest wireless invention.
With this nifty headset, one can get rid of a long wire attached to the earphones. Now the company offers a one multi-functional set that can be used with any system. It comes equipped with a revolutionary adapter that can be used at work or at home. As well, it is compatible with Bluetooth devices.
The Borofone BE10 went into production back in October of 2016 and is set to be mass released at the end of October, 2017. The company is offering a warranty and explaining its return and exchange policy:
"We gave a warranty for you to choose on keeping or returning the product, but try to keep the case safe."
The company believes in a bright future where the headsets are the main hub of the connected world. Over the last few years the company has been trying and perfecting a smart, wireless headset or a headphone that can be easily controlled without a mobile connection.
Borofone allows enjoying music of one's own selection without a wire connection to the cell phone. A wire can be a disturbed element while jogging, exercising or commuting with work. According to the owner of Borofone BE10:
"We have introduced a new item that will open a new door of success in the world of technology. Everything is now at your choice. Just select and enjoy the world of music."
Borofone BE10 is a standalone device. Connection with a cellphone is not necessary. The company is giving the real freedom when traveling, doing households, jogging and commuting to work.
The company held an item demo day in Beijing and the user's expressions were marvelous about Borofone BE10. People are choosing this product because of its unique features as compared to its price. It is true that Borofone BE10 is cheaper than other earphones. One can easily afford this prime product and can bring a wonderful change in one's life style.
Borofone has a clear sound system that has no interruption of weather outside. It doesn't fail in rainy or windy weather. The company claims that it works like a psychiatrist that doesn't leave users alone with their sad thoughts. Just put it on and forget about the wire length. There is no wire attached to it. It is simply wireless. It is portable and one can keep it all the time.
The company claims that Borofone BE10 is so easy to use. Put the headphone and music will play automatically. Remove it and it will stop. One can easily communicate with others without any tension. With this scenario, Borofone BE10 is no doubt a must-have thing.
Source: Borofone Technology Ltd.
Share:
---
Categories: High Technology, Wireless Networking, Fashion
Tags: 2-in-1, Borofone BE10, wireless earphone
---